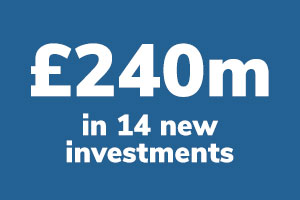 News
'Important Decade for Private Equity' as LDC commits to back more SME firms
12 Jan 2021
To deliver almost 50 investments and portfolio company acquisitions speaks to the success of our investment strategy, the resilience of our portfolio and tenacity of our teams. It also serves as a reminder that, for all the challenge and uncertainty, there are opportunities across the economy that private equity can help to unlock."
"The performance of those investments we exited in 2020 meanwhile demonstrates the success of our approach to back ambitious management teams, invest in growth and add value during our partnerships."
Of the companies LDC sold in 2020, the average hold period was 4.4 years, whilst management teams achieved an average sales and profit (EBITDA) growth of more than 2x during their partnership with LDC.
Mr Rougier added: "SMEs have always been the backbone of Britain's economy – ensuring there is a recurring and reliable supply of private capital to back their growth ambitions remains our primary purpose, especially with uncertainty continuing into 2021 for many businesses.
"As well as helping accelerate the UK's recovery, private equity has the opportunity to drive economic prosperity in every corner of the UK. We also have the ability to positively influence the environmental, social and governance contribution of the businesses we back.
"This is a landmark moment for the private equity industry to contribute economically whilst driving positive and lasting change."
The firm also said its existing partnership with The Prince's Trust – which aims to help young people across the UK to explore and launch their own business through start-up grants, volunteering and mentoring – would be an even bigger focus in the year ahead.