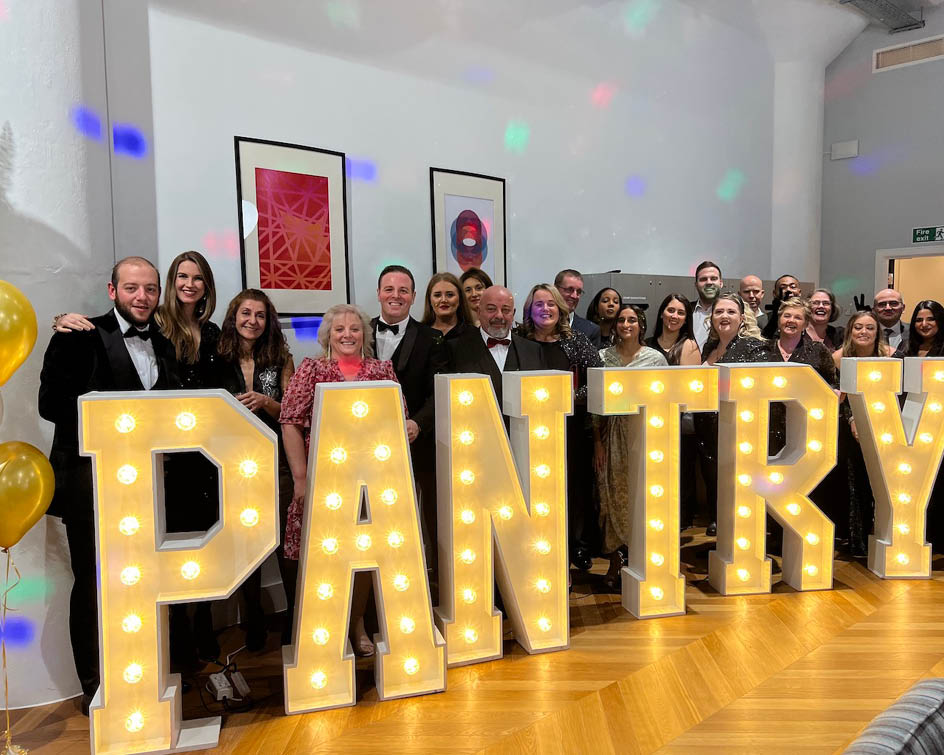 News
Celebrating the pick of the crop
18 Oct 2023
The dream is to be the biggest in our industry and feed more children every day than any other company. We will do it but we won't compromise our values on the way."
Mark Copley of Copley Scientific secures The International Growth Award, having achieved 90 per cent of sales outside the UK with his world-leading pharmaceutical testing equipment. His pivot, from retailing low-margin lab products to manufacturing specialised inhaler testing equipment has proved to be a smart move but Copley isn't driven by money: "For me, it's about making the best products that people love and meet a need."
Husband and wife team Mark and Kuntal Fisher take home The People First Award with their ethos of working smarter, not harder, at FIECON. "As employers, it's our responsibility to make sure that FIECON is a great place to work," says Kuntal. "So we tend to experiment a lot." Judges were impressed by their clear strategy, from being great employers to giving back – and, of course, supporting the provision of new, life-changing medicines to people worldwide.
The ESG Award goes to Tony Cleary of Lanchester Group for his outstanding approach to achieving end-to-end sustainable operations at an impressive industrial scale. He has invested £13 million in his sustainable buildings, running almost all operations on renewable energy and also contributing surplus energy back to the National Grid. "It's the way forward," he says. "We've been fortunate how quickly sustainability has come to the fore."
Our first of three Trailblazer Awards, Trailblazer in Women in Tech, goes to Anna Brailsford of Code First Girls. Her ambition for the company to become the world's first edtech unicorn is exciting, but almost more impressive is her dedication to encouraging women from all stages and walks of life to enter the tech industry. "If you can make a successful for-profit women-in-tech organisation, you can create even more benefits for women," she says.
If you can make a successful for-profit women-in-tech organisation, you can create even more benefits for women."
Nicolas Gillanders, CEO of South Coast Installation Services, is our Trailblazer in Energy Efficiency. He had the courage to take on a business in distress and not only turned it into a success but also made it an important player in the energy crisis: "We want to make energy efficiency affordable and sustainable so we can help the UK reach its net zero target."
Adam Ward and Josh Graham of Airtime Rewards take home The Trailblazer in FinTech Award. Having developed their own technology in the telecoms space, they've experienced fast growth with a small headcount: "We wanted to build a loyalty rewards business that delivered tangible value back to customers," says Ward. "Your debit card becomes your loyalty card and the currency you earn is relevant, tangible and instant."
We also have three Rising Star Awards, representing the names we expect to see more of in the coming years. First up are Mo Hussain and Alan Rock, of Moasure, our Rising Star in International. Their idea might have been ahead of its time but now the technology has caught up, the pair have an amazing product with 95 per cent of sales outside the UK.
"We've got a new category of measuring tool, it measures in a way that no one has seen before," says Hussain. "We're proving that you don't have to move to Silicon Valley to have a successful global product technology."
Our Rising Star in Sustainability is Lucy Macnamara and her B Corp accredited fashion business, Aspiga. She's making strides in an industry with a notoriously poor ESG track record – proving that fashion can be sustainable and stylish. "A lot of people measure success by profitability and sales – we add sustainability to that," she says.
And the brothers Reza and Omid Najafian of Staffscanner are recognised as our Rising Star in People. Their commitment to diversity and inclusion shines not only in their dedication to charitable giving but also in their role of creating skills and changing lives through their own business. "Everything we make we can reinvest into Staffscanner," says Reza.
Our Highly Commended: One to Watch Award recipient is Lewis Reeves of Walr – a data analytics company that has already scaled to 90 people across eight different countries in just two and a half years.
Alumni Spotlight: Dan Williams, Orean
The man behind this private label cosmetics brand has driven enormous success in the UK, but he has his sights set on generating half his company's revenue from the US in five years.
The Alumni Award goes to Dan Williams, managing director of private label cosmetics manufacturer Orean. Since our last meeting in 2019 – when he featured in The LDC Top 50 – he has driven remarkable overseas growth and established his business as a leader in the industry.
When Williams joined the company 12 years ago, it was turning over £3.5 million – it's now at £34 million and has achieved B Corp status along the way. "We were already an ethical company, following B Corp principles," he explains. "But we weren't documenting anything. We became certified in December last year and that helped us to attract lots of new customers."
Under Williams, the business has focused on making beauty products on behalf of some of the world's biggest brands.
He admits the past few years have been tough. Many customers cancelled orders in the face of economic instability. Brexit and supply chain issues have also been unhelpful. He hasn't let that stop him expanding into the US, though, growing those sales to a quarter of total revenues – aiming for 50 per cent in the next five years.
"During the pandemic, the US division grew so fast that we had to relocate it and manage the whole transition remotely," he says.
Williams says the hardest thing can be keeping those around him positive. His own means of coping include Ironman triathlons: "You consciously put yourself in an uncomfortable situation, and that makes you better able to deal with problems that come up in real life."
Ambition is the driving force that propels innovation, growth and ultimately success."
Championing Ambition
At LDC, we have always championed ambition. We back management teams who are striving for growth, providing them with the investment and support they need to achieve their commercial goals and make a positive contribution to society and the environment.

The LDC Top 50 Most Ambitious Business Leaders was born out of our own ambition to shed light on the remarkable stories of medium-sized businesses, the unsung heroes of the British economy.

Since the programme's inception six years ago, we've received more than 3,000 nominations and celebrated the achievements of more than 500 business leaders through The LDC Top 50 and Ones to Watch.

They run companies that collectively turn over £7.5 billion and provide employment for more than 50,000 people. They are the backbone of the UK economy.

Looking at this year's Top 50, it's clear the competition has never been fiercer. These leaders hail from every region of the UK and span every sector of our economy, and their stories of growth are testament to the unyielding spirit of ambition that the UK business community is famous for.

The LDC Top 50 for 2023 is a celebration of creativity, expertise and determination. I hope you will join me in congratulating everyone profiled this year on their achievements.

John Garner, Managing Partner of LDC