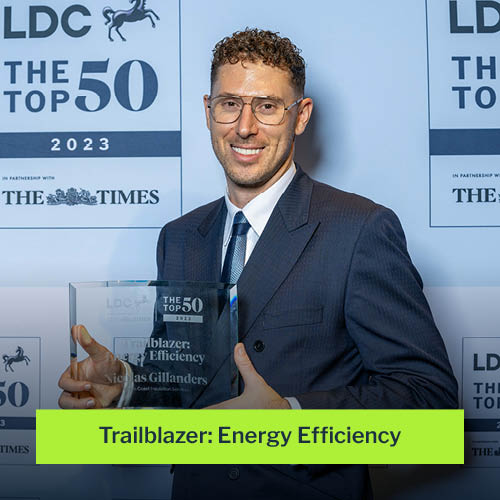 LDC Top 50 2023
Nicolas Gillanders
CEO
South Coast Insulation Services and Cotswold Energy Group
One of Nicolas Gillanders' first jobs was working as a cavity wall and loft insulation installer for South Coast Insulation Services. He left the company in 2014 but, when it was teetering on the brink of bankruptcy four years later, he swept back in and bought it.
Today the Southampton-based business has profits of nearly £9 million and employs 220 people, working to improve energy efficiency in social housing and private properties across the UK. Gillanders is currently designing and developing two eco-friendly, affordable homes in Hampshire. "I want to fly the flag for sustainable housing and show that new homes shouldn't cost the earth."
I want to fly the flag for sustainable housing and show that new homes shouldn't cost the earth."
Q&A
What are your growth plans?
We recently acquired Cotswold Energy Group to add low-carbon heating to our services. We expect to more than double our headcount over the next two years and we'll be rebranding the company to 'Bundle'. I'll admit that I got nervous beforehand. There comes a point where every entrepreneur wonders if they're the best person to take the company to the next level. It helped to have an honest conversation with my management team. Knowing that they all back me renewed my confidence as a leader.
How do you create a strong company culture?
From day one, we wanted the business to have a family culture. My mum, stepdad, three brothers and cousin all work in the business. They don't report directly to me but they all have the same values, and that trickles down to the whole company.
What's your ambition?
To provide every house in the UK with an energy efficiency plan that covers the whole house, and importantly 'pays back'. This can be achieved by retrofitting everything from insulation and ventilation, and implementing renewable technologies. Importantly, we want to show consumers that they can make tangible savings whilst making a sustainable investment in their home.