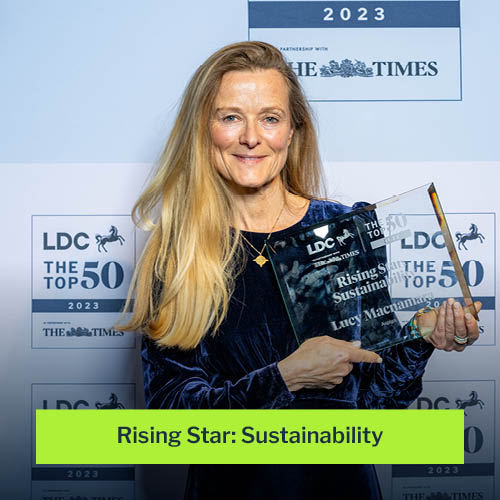 LDC Top 50 2023
Lucy Macnamara
Founder
Aspiga
Inspired by a pair of beautiful sandals she bought on holiday, Lucy Macnamara worked with a supplier in Kenya to design a capsule collection of sandals and belts.
She launched sustainable fashion brand Aspiga at a London trade show in 2005, where she signed up 40 stockists – including department store Fenwick on Bond Street. It became a B-Corp last year and now has 12 stores and sales topping £10 million. Macnamara has ADHD and says it's one of her greatest strengths as an entrepreneur. "Eventually I'd like to start a charity that helps schools and prisons to better support people with ADHD," Macnamara says.
Business can be a force for good. For every decision we take, we measure our actions against our sustainable goals to ensure we stay on track."
Q&A
What's your sustainability strategy?
I always felt guilty about starting a fashion brand, so I thought, "If I'm going to do this, it has to be as sustainable as possible". We use responsibly sourced fabrics and nearly all our products are imported by sea rather than air. We aim to be carbon neutral by 2025. When we open a new store, we try to repurpose what's already there to make it work for us. From sponsoring water charities and local schools to organising beach cleans, we're also supporting our suppliers in Kenya and India.
How have you grown your business in the last five years?                                                                                        
We were focussed on growing online sales and never planned to move into bricks and mortar. However, we thought it was worth a go when the Covid-19 pandemic caused landlords to offer reduced rents and there was a Business Rates Reduction. We opened our first store in Wiltshire in 2020 and took £3,000 on day one. That gave us the confidence to keep going. Customers love seeing our products in stores, we love seeing them and our returns rates are lower.
What advice would you share with other entrepreneurs?
Move with the flow and jump on opportunities quickly, they don't always hang around.  Trust your gut feeling – in my experience it's normally right – and finally, try to find a good mentor.