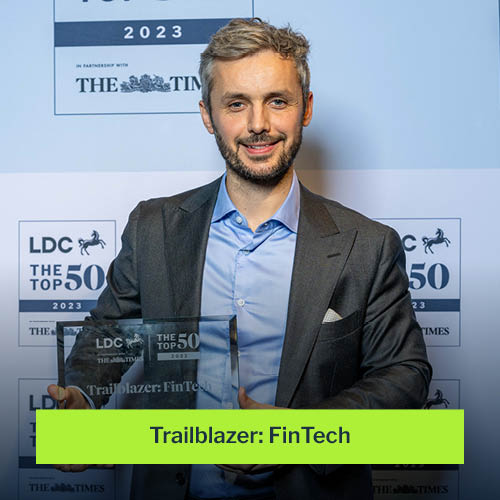 LDC Top 50 2023
Adam Ward and Josh Graham
Founders
Airtime Rewards
Having worked together on Orange Wednesdays, the iconic cinema-ticket loyalty scheme, Adam Ward and Josh Graham decided to go it alone. 
The duo began developing Airtime Rewards in 2015, they worked with the UK's biggest mobile networks and partnered with Visa and Mastercard to turn debit cards into instant loyalty cards. They have since signed up over 300 retailers to the Airtime Rewards app and it boasts three million members, who have collectively saved £26 million on their mobile bills. The pair are now eyeing opportunities in central Europe.
We saw the power of rewarding loyalty with something that consumers really want: money off their mobile phone bill."
Q&A
What was your aim when you started the business?
Josh: Most loyalty schemes involve swiping cards, collecting points and waiting months for a reward. We wanted to redefine rewards for a mobile generation and build a scheme that was relevant, instant and tangible; where people could earn airtime as they shopped. That had never been done before, but we knew we could do it. We had to start with a blank piece of paper and build the technology from scratch, the success of this technology now drives our business and rewards consumers every day.
What was a pivotal moment for the business?
Adam: In 2016, we won Tech Nation's Northern Stars programme and were named as one of the UK's most exciting fintech companies, earning us a place on Telefónica's accelerator programme, Wayra. Until then, we had a chicken-and-egg situation: we couldn't sign up retailers without customers, and we couldn't sign up customers without retailers. Suddenly, we had credibility, office space in Soho and a foot in the door with O2. That was a huge turning point for us.
What's the best piece of advice you've ever received?
Adam: One of our advisors drilled into us the importance of financial planning, budgeting and forecasting right from the start. We've always had the discipline of a public company with good governance, management accounts and board packs. We could probably list on AIM tomorrow!