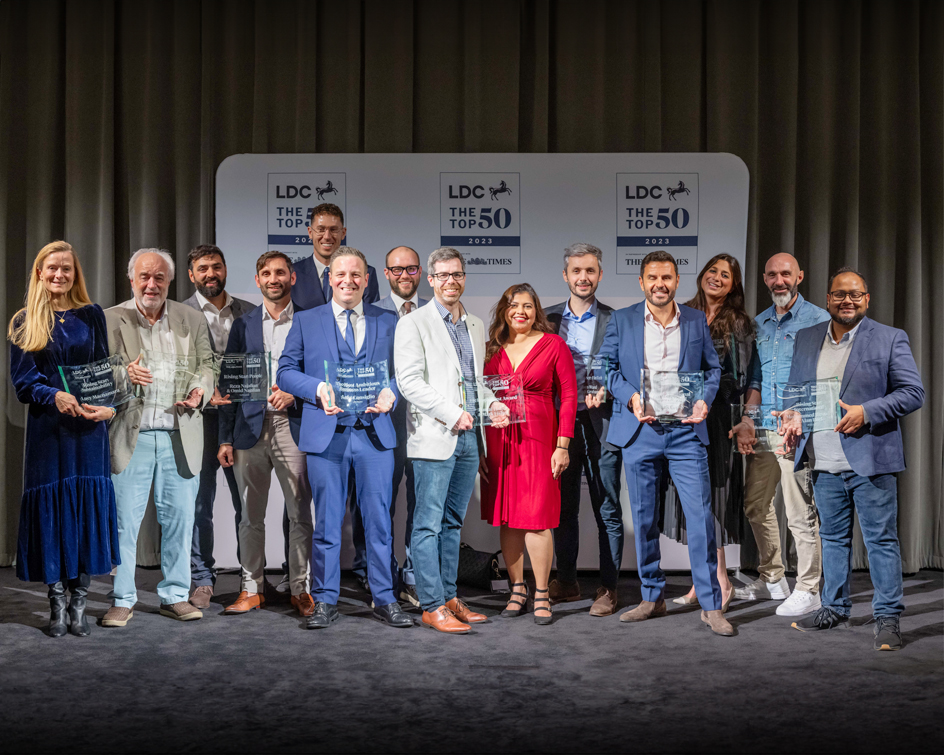 News
Winners of The LDC Top 50 Most Ambitious Business Leaders for 2023 revealed
18 Oct 2023
Despite what remains a challenging period for businesses, their relentless drive and determination is just the tonic that the UK economy needs to maintain its recovery and rebuild for future growth."
Top billing
The International Growth Award, marking a leader's ambition and success in expanding operations or sales overseas, was handed to Mark Copley of Copley Scientific. Under his stewardship, the 30-stong Copley Scientific team has made major investments in its manufacturing capabilities in recent years to develop new products and now exports around 90 percent of its products outside of the UK.
Mark and Kuntal Fisher of FIECON scooped The People First Award, which recognises the business leader with a clear mission to support people and create more equitable and inclusive societies. A great example of mission-driven business leaders, the duo has pledged to give £10m back to wider social causes and impact 100 million lives positively through their work.
Honouring the leader who has created a business driven to contribute to a more sustainable future, The ESG Award went to Tony Cleary of Lanchester Group. An advocate of renewable energy, Tony has built a business with outstanding sustainability credentials and has led the development of a new self-powered bottling plant. Lanchester Group is also the first business in Europe to heat its warehouses with water from disused mine workings.
Trailblazers
The first of our Trailblazers – those business leaders who are disrupting their markets – was for Women in Tech and went to Anna Brailsford from Code First Girls. Having transformed the organisation from a social enterprise to a rapidly accelerating profit-making business, Anna's plan to create one million opportunities for women to learn to code and participate in the tech industry in the next five years was hailed by the judges.
Nicolas Gillanders of South Coast Insulation Services was awarded the Trailblazer in Energy Efficiency Award. The judges were impressed with his quest to help homeowners improve the energy efficiency of their properties amid increasing awareness of climate related issues and the ongoing cost-of-living crisis.
Next up was the Trailblazer in FinTech accolade, which went to Adam Ward and Josh Graham of Airtime Rewards. Recognised for their ambition to create the leading loyalty programme for the mobile generation, the duo's cashback app offers consumers an easy way to get money off their mobile bill.
Rising Stars and the One to Watch 
Mo Hussain and Alan Rock of Moasure were awarded this year's Rising Star in International Award. Moasure's app allows users to take measurements for landscaping or construction simply by moving their phone, and its founders have successfully increased the business' international presence via five global warehouses and through sales to 150 countries.
The Rising Star in Sustainability Award went to Lucy Macnamara of Aspiga, in recognition of her unwavering commitment to 'circular fashion'. Her ethical fashion company stimulates fair trade with international artisans, as well as making fabulous clothes and jewellery. It also achieved B Corp status last year and aims to be carbon neutral by 2025.
Brothers Reza and Omid Najafian of Staffscanner scooped the Rising Star in People Award, after impressing the judges with their commitment to diversity and inclusion. Their revolutionary healthcare staffing platform matches care staff with work opportunities, offering them flexibility, with the promise of payment within 48 hours of completing a shift.
This year's Highly Commended: One to Watch Award, which recognises the leader who is the driving force behind a business destined for great things, went to Lewis Reeves of Walr. The technology business has scaled quickly under Lewis' direction to employ 90 people across eight countries in just two and half years.
Celebrating our alumni
As part of this year's programme, we introduced The Alumni Award to recognise one individual from across The LDC Top 50 alumni network who has continued to push on and achieve brilliant things. This went to Dan Williams of Orean. Originally featured in The LDC Top 50 in 2019, when he had just completed an impressive turnaround of the private label cosmetics manufacturer, Dan has since ramped up growth in the US, added an insights department to the business and become a B Corp. 
A year of significant achievements
John Garner, Managing Partner at LDC, said: "This year's LDC Top 50 entries surpassed all our expectations and once again showcased the outstanding talent and ambition that exists among entrepreneurs from across Britain. Despite what remains a challenging period for businesses, their relentless drive and determination is just the tonic that the UK economy needs to maintain its recovery and rebuild for future growth."
Since 2018 The LDC Top 50 has received more than 3,000 nominations and celebrated more than 500 business leaders, shining a spotlight on the remarkable success stories of medium-sized businesses.