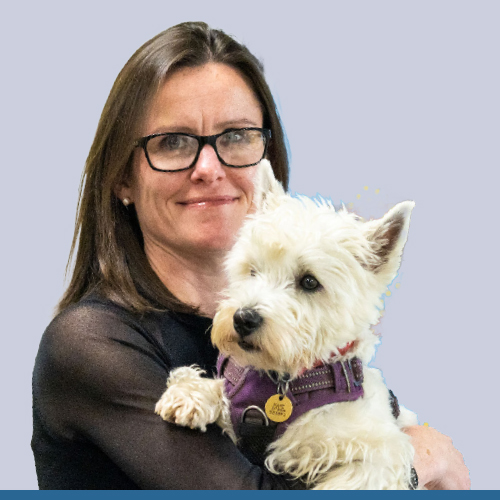 LDC Top 50 2021
Sarah Kaye
Managing Director
Pet Food UK
Sarah Kaye joined Pet Food UK in 2017 and has helped take its brand Barking Heads to the next level. The brand's mission is to create better food for dogs of all ages, shapes and sizes and as a result it's become the go-to choice for dog lovers around the world.
Sarah left the corporate world to join Pet Food UK because she wanted to "be empowered to make a difference." Under her stewardship, the business has grown 50pc, with a presence in 30 international markets. Sarah says: "We are improving the wellbeing of dogs and that is a really important purpose for me and the team."
I'm never in competition with other people; just myself. Fear of failure drives me."
Q&A
How have you transformed Pet Food UK?
At the point I joined the company, the founders had built a great business supplying into independent retailers and then expanding into other channels, but there was a need to future-proof the business to enable the brands to maximise their true potential. I used my experience in the corporate world to create a structure and a team to help the business move forward and expand further,  both into grocery and to establish itself in the online channel which is a strong-hold for future growth. Our heritage was in dry food, but we've expanded into wet food and treats and are enjoying success as a result.
Tell me about your international strategy
We now have a presence in 30 international markets. Exports make up a third of turnover and it's growing, with an expanding footprint across Europe and Asia. We have a truly omnichannel approach and a digital-first mindset and that is working well for us as we expand into new markets. Protecting supply is also fundamental so we are building strong relationships with European manufacturers. 
Where does your ambition come from?
I am exceptionally competitive. But I'm never in competition with other people; just myself. Fear of failure drives me. I thrive on autonomy and being empowered to make decisions. But I think my ambition for Pet Food UK is ultimately driven by my passion for dogs; it's a privilege to work with a subject you love and it makes success even more meaningful.