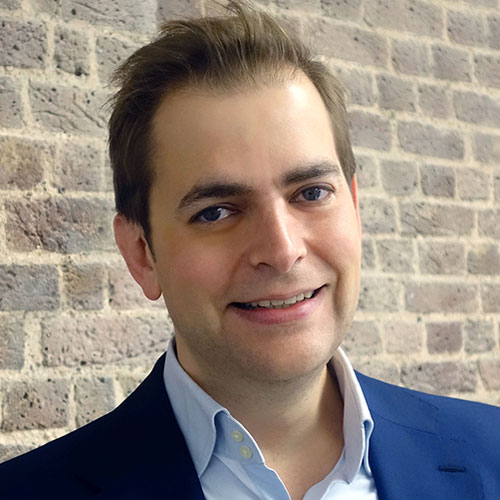 LDC Top 50 2020
Joel Hopwood
Co-Founder
Shopper Media Group
Joel Hopwood describes his early career as a "car crash", drifting from job to job. When he landed a job at Dunnhumby, the inventor of Tesco Clubcard, he discovered a passion for data.
In 2008, he had a ground-breaking idea: to create a business to manage all the advertising space in supermarkets, from car park signage to the tiny adverts on shopping trolleys. Joel launched Shopper Media Group in 2008 with co-founder Matt and it is now on course to turn over £100m by 2023 with plans to expand internationally "We want to put our flag on the map," says Joel.
Q&A
Tell me how you got to where you are today?
I used to work at Dunnhumby and became great friends with another chap there, Matt Lee. We would stay up late into the night talking about start-up ideas. We spotted an opportunity to apply the media agency model – i.e. the placement of ads and media planning – to the media that shops and supermarkets own. Tesco for instance is a significant media owner. It turns over £150m a year from that business alone. So, I resigned, and we put £1,000 in a business account. I had enough money to live on for a year and a half if it was a total failure. But we had a stroke of luck: someone from our old company went to work at Sainsbury's and mentioned us. We had a meeting and they agreed with all the things we were saying about how retail media needed to be improved. We did £1m in revenue in that first year.
What's been your darkest hour in business?
We achieved explosive growth for a few years and made it into the Sunday Times Fast Track. Everything was rosy. Then, suddenly, in early 2013, Sainsbury's decided to take the media planning business in-house. That was very difficult. We sat the team down and said that we were going to get to work on a new venture, and they could come with us or they could go and work at Sainsbury's. Everyone we asked stayed and that was a real vote of confidence. We landed a new client quickly because we had a great reputation but it hurt to start again from scratch. That taught us a valuable lesson and Shopper Media Group is a much bigger, better, and more diversified company as a result.
Where does your ambition come from?
I had no drive whatsoever when I was young. I was lazy and did the bare minimum to graduate with a 2:1. Then, I went through a few years of failure, and temping on minimum wage and ambition sparked from that. I had a car crash of a career before I got the job at Dunnhumby, which took me from pretty much nothing to being a successful professional. I had to be taken quite low to discover that drive but when I did, it was such a thrill.
We have set a goal to be dominant in the UK with a presence across different markets globally. We want to put our flag on the map."