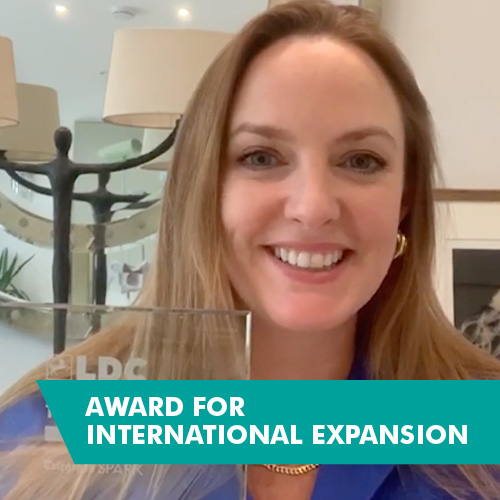 LDC Top 50 2020
Marisa Hordern
Founder
Missoma
Marisa Hordern began making jewellery as a side hustle while working as a media buyer at Richemont the owner of luxury jeweller Cartier. Within a few years she was supplying Harrod's, Harvey Nichols and Liberty's.
In 2008, she carved out her own niche in a competitive industry, giving up wholesale and focusing on selling "demi-fine" jewellery – priced between £50 and £350 – direct to consumers online using social, digital and influencer marketing. Today, the company generates more than half of its £19m turnover from exports. "It's been a long journey but that has made me more resilient, stronger, and more prepared to face challenges," she says.
Award for International Expansion
Watch our Top 50 editor Rebecca Burn-Callander reveal Marisa Hordern as the winner of the International Expansion award and celebrate her ambitious international outlook and track record for growth in exports.
Watch the video
Q&A
What does ambition mean to you?
I like to get things done. My friends and family are always telling me to slow down and try to relax but that's just not me. I'm a classic overachiever.
What's been your biggest mistake?
It took me a long time to grow my business in the early days. I was inexperienced and naïve and was making the jewellery with my mother at my kitchen table. I would go and sell to little boutiques around the country but I never had a business plan back then. I quit my full-time job at Richemont to focus on the business but it still took me a long time to scale because I had to teach myself everything. It was seven years before everything came together.
… And your smartest move?
In 2014 I decided I was tired of being a busy fool. I was doing mostly wholesale, which is a lot of work for very small margin, and I was still spending hours on the road selling my pieces to small shops. That's when I decided to really focus on Missoma's own online sales. I built the business largely on Instagram and digital marketing channels, and we were one of the first brands to use influencer marketing. Today we are 97pc B2C.
Who do you turn to for advice?
I always ask my mother or sister for help on creative ideas. They are very artistic. But on the business side, I've really missed out on having a mentor. I'm still looking for that. I've never had the time for networking or parties with other business owners. It's been very lonely at points. But now I have appointed a C-suite, so it's not just me driving the business forward. I plan to spend some time looking for a mentor or support network now that I have more free time.
It's been a long journey but that has made me more resilient, stronger, and more prepared to face challenges."