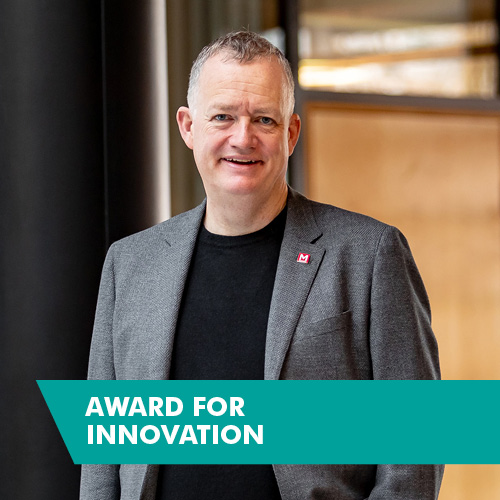 LDC Top 50 2020
Dr Graeme Malcolm OBE
Founder and CEO
M Squared
Dr Graeme Malcolm OBE is using lasers to solve some of the world's most pressing problems. His company, M Squared, is helping the European Union to track climate change.
It is using light to track disease within human cells. It is also helping to build quantum computers, which can complete calculations that would take normal machines 10,000 years to solve. "We find the valuable and difficult problems that precision light can solve," says Graeme. The company is doubling revenues every two years and exports 95% of its products overseas. Graeme says: "We are Scottish company that is becoming a world beater."
Award for Innovation
Watch our Top 50 editor Rebecca Burn-Callander reveal Dr Graeme Malcolm OBE as the winner of the Innovation award and hear about how his business M Squared is on a journey to solve some of the World's most pressing problems.
Watch the video
Q&A
What was your vision when you started the business? How has that changed?
We set out with the vision to make the world's purest light, and now we can do that. We make laser technology – photonics – and our light is used in a range of applications, from making the chips that go into iPhones, to next-generation virtual reality, even for observing how individual neurons in the brain react when diseases are present. We are now starting to see how light enables quantum technology. Light allows us to make machines that aren't just made of atoms; we can make even more precise machines. This is revolutionary; the next generation of technology. I've been doing this for 30 years and it still gives me goose-pimples. When I was at university, quantum was just an idea in people's minds.
Where will future growth come from?
Right now, 95pc of our products ship overseas to 35 countries globally. We are going to keep expanding, focusing on industries where we can demonstrate significant growth. We already have hubs in Boston, London and Berlin. We will be powering missions to measure climate change gases from space. That's a big honour.
How has being based in Scotland contributed to your success?
Scotland is the centre for photonic and quantum technology excellence. It goes back to the arms race at the start of WWII. A spinout from Glasgow won the challenge to build sighting systems for the British Navy We have profited from a long-standing team and collective learning, which is very important when you are on a long journey, like quantum.
We want to be a great global player, and make the most of our incredible potential here in the UK."