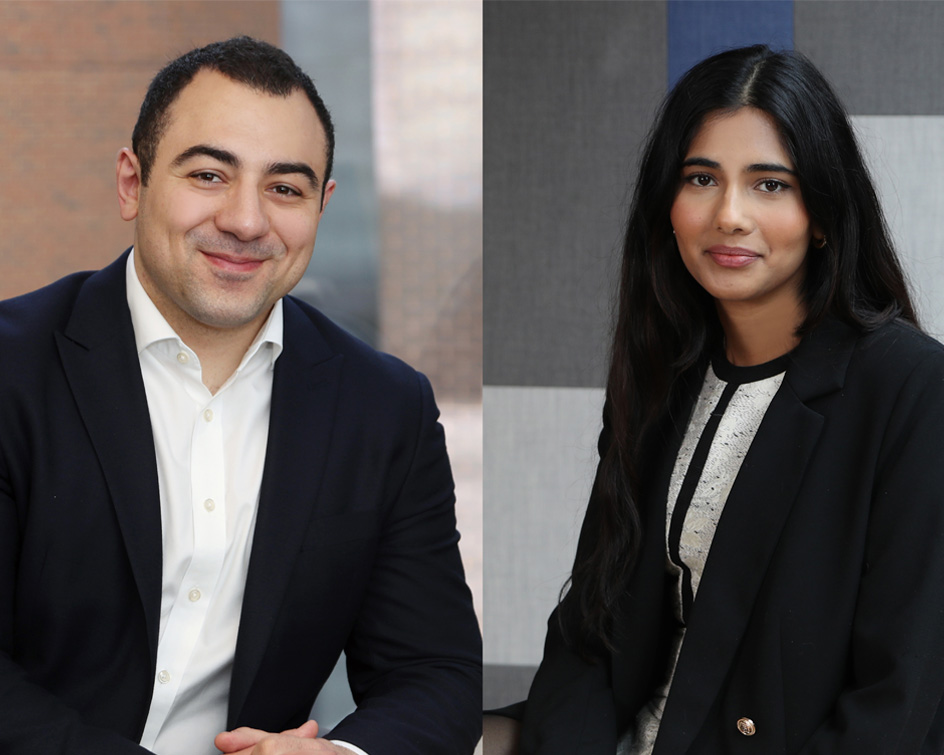 News
Kickstarting a career in private equity
12 Jan 2023
Investment Managers Ayesha Ali and Demetri Theofanou joined the West Midlands team of leading private equity investor LDC last year, just as the firm announced a commitment to invest in 100 businesses nationally over the next five years. Here, they tell us about their experiences so far.
What attracted to you to working at LDC?
Ayesha Ali: Whilst on my graduate programme at Lloyds Banking Group, an LDC investment manager came to speak to us about private equity, and that was my first real introduction to LDC and the world of private equity. The organisation's regional model, longstanding track-record and multi-sector investment experience really resonated with me.
Demetri Theofanou: LDC is one of the leading investors in the market – the firm has a really strong presence in the region and a track record that goes back more than 40 years. This, alongside the culture and the team's connections with the wider business community, were all a draw to joining the firm.
What has been your experience since joining LDC?
Demetri: It's a very entrepreneurial place to work. You're actively encouraged to go out to meet businesses and network with local advisors. There's a culture of meritocracy, and everyone's input is recognised and welcomed.
Ayesha: I didn't realise how much more there was to private equity than simply writing a cheque, LDC works alongside management teams helping them deliver on their growth ambitions. Whether that's through the expertise and insights of the team here in Birmingham, through accessing our brilliant non-exec network or working with our Value Creation Partners team, who provide specific support on areas such as ESG, sales optimisation or operational improvements.
What part of your job do you enjoy the most?
Demetri: We're lucky to work with ambitious management teams who are driving the growth of some really exciting businesses across the West Midlands. I grew up in Coventry and it's a privilege to support businesses close to my roots.
Ayesha: I enjoy meeting passionate management teams and hearing their unique stories and ambitions for their businesses. It's also great working for an organisation which looks to support its local communities, at LDC we're encouraged to get involved with local charities, with the Birmingham team supporting Birmingham Children's Hospital, the Hippodrome and Kids Village this year. Our partnership with The Prince's Trust is also a big part of that. I sit on our partnership advisory board and am working with the team as we help more young people to start, sustain and grow their own business. I grew up in Birmingham and my family still live here, so being able to give back to my local community is important.
What would you say to anyone considering a career in private equity?
Ayesha: Go for it! It's an exciting place to learn and develop, where you'll be given countless opportunities to expand both your technical knowledge base and soft skills, whilst being surrounded by a network of experienced and super talented people. It's also a great time to join the industry, with the community embracing inclusiveness and diversity.
Demetri: It's fast paced, fun, and I like that every business we look at and every management team we meet is different. You learn so much. It's also not just about spreadsheets and numbers, building and maintaining relationships with management teams and networks with the local business and advisory community is such an important part of the job. In all honesty, developing trusted relationships is probably the most important part of the role!
What makes the West Midlands stand out as a region?
Demetri: The region has a £120bn economy, which has grown 26 per cent over last five years. It is also the largest tech hub outside London, with over 30 accelerators, incubators, and business support programmes to help tech businesses to thrive. Birmingham recently came second in the UK in a study of cost-of-living vs salaries, so looks set to retain and attract the best talent.
Ayesha: Despite recent economic challenges, Birmingham has emerged as a leading business destination for both start-ups and scale-ups alike, benefiting from high levels of inward investment in recent years, being the best-connected location in the UK and having one the youngest and most diverse populations in the UK.
Where is your favourite destination in the West Midlands, and why?
Ayesha: Moseley is great, it has a real village feel and has some of my favourite restaurants and lots of lovely little cafés.
Demetri: I like Digbeth, because of its vibrant scene – whether it be entertainment or new food outlets; there's always something going on. I also really enjoy exploring new areas and have found some good pop-ups along the Grand Union Canal recently!