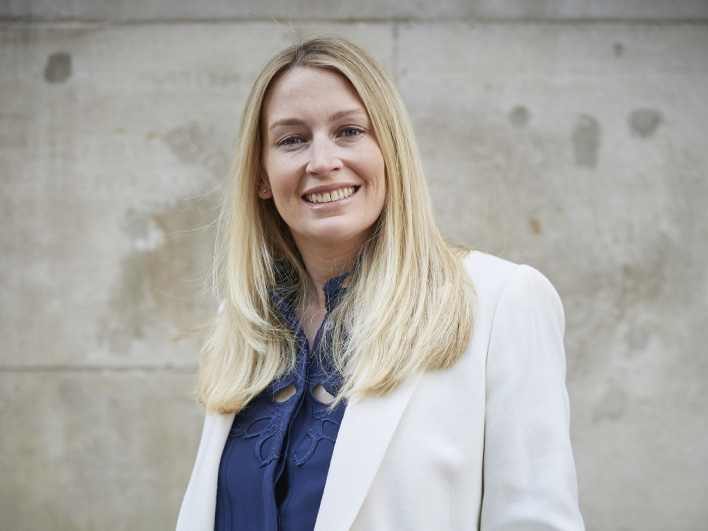 NEWS
Gillian Sharman: women in investment profile
7 Jun 2023
The best entrepreneurs are approached more and more by people doing a similar job to me. So it's about having the right message in a very tailored introductory email to grab their attention. You need to be clear about what makes you different. You need to get the information across that makes your proposal interesting to them."
Taking the lead
Sharman will lead the initial meeting to get an understanding of what the business objectives are, the time frame and a first sight of management. At a follow-up meeting, which may be six months on, she will bring in a member of LDC's investment team for more detailed conversations on deal structure and strategy. It may involve colleagues with the right sector experience, such as Aziz Ul-Haq for healthcare or Richard Ibbett for technology.
Sharman also identifies buy-and-build opportunities. Armed with the portfolio business's strategy, she can see opportunities for LDC's portfolio nationwide. For example, an acquisition opportunity in the North West may be a better fit for a portfolio company elsewhere in the UK. "There are so many different ways we can treat an investment opportunity. It could fit with one of our portfolio companies in the North West, one elsewhere in the country, or it could be a standalone investment. In a portfolio of 90 businesses, we can have similar businesses run by different teams in different regions, or at different stages of development."
Just before the pandemic struck in March 2020, Sharman set LDC's investment in Ellesmere Port-based Rhino Products in motion. Despite COVID-19, the deal completed in November 2020: "That was interesting – trying to keep the momentum going through the lockdowns." With an ongoing buy-and-build strategy, Sharman continues to look at opportunities for Rhino.
Another investment process that continued through the pandemic was in occupational health group PAM, completing in June 2021. "Not getting to meet management face-to-face for several months provided challenges," she says. "Understanding the work they did and how that would be impacted by the pandemic and lockdowns was key. Post-pandemic, everyone is putting more thought into employees and helping with mental health problems, so they need this occupational health service. Pre-investment, I was interested to hear how that issue would drive future growth and the strategy."
She continues: "Every year we start again." All of the firm's funding is provided by Lloyd's Banking Group: "That means we really spend time focused purely on investments, building relationships and working with portfolio companies rather than fundraising."
Filling the pipeline
The nature of origination means you are always thinking about building a pipeline of deals for the investment teams. LDC is committed to investing in 100 medium-sized businesses over the next five years, and the firm's entire national network plays a part. Last year was a record year for the North West team, with four transactions and £100m invested. In March this year, the team completed an investment in Merseyside headquartered artificial intelligence-based talent analytics platform, Horsefly.
"To keep growing, we need to see as many new opportunities as we can," she says. "Some people think the business might be too big for LDC, or too small, but the message is that we'd rather see everything. We can understand the business and take our own view." There might be something that the LDC team identifies as a lever for growth, she adds: "We can help that with our value-creation team, or expertise we have from similar transactions, or as part of a buy-and-build." And the future? "I want to do the best I can, unlock future deals for LDC and see where the future leads," says Sharman. "I'm always thinking of new ideas, things nobody has done before, and I love learning and evolving."
The winding road
Gillian Sharman has not taken the most traditional path to her current role as LDC origination director covering the North West of England. Following a year at Leeds Metropolitan (now Leeds Beckett) University, she moved to Vienna to learn German. But after a year, she returned to her home city of Manchester and enrolled for a business degree at Manchester Metropolitan University. As part of the degree, she had a one-year placement working as a marketing executive with BUPA.
"It gave me some really valuable experience of working in industry," she says – but she didn't move into a career in healthcare. The "marketing aspects and working with different businesses" inspired her to apply for a research and marketing job at Altium Capital in Manchester. "It was a great opportunity to use the marketing I'd studied at uni and learned at BUPA, and a great route into the business world, which I'd had an interest in since A-level."
She joined Altium and, as well as marketing, worked on origination research – acquisition searches and buyer lists. In 2009, she moved to Zeus Capital – a similar role in a similar firm, but with more responsibility. There were around 10 in Zeus' Manchester team and at one point its office was next-door-but-one to Altium."
During my three years at Zeus, the firm evolved from doing small deals to bigger ones – it was a real step change for it. It was building relations out and there was a great bunch of people to work with. Really, I got my first foot in the M&A door there and began to understand the world of corporate finance," she says.
In 2013, Sharman joined BDO as a research manager, working on acquisition searches and purchaser lists to support the corporate finance team. She left Zeus predominantly because the private company work was becoming more limited. "
My role was in research and acquisitions and putting together buyer lists, but it was becoming a lot more focused on IPOs. It was a completely different market and it was becoming a completely different firm. I wanted to continue doing what I enjoyed – research and getting into M&A."
At BDO, she built her corporate finance skills in the process and from the get-go understood the importance of having a strong network. She organised networking events for young professionals in Manchester, and specific women's events: "I'd get three different sponsors each time from a core list, and then everybody could invite new people. I understood the benefit of keeping it fresh."
As well as helping others build their networks, she was, of course, building her own at the same time.
Then in 2015, she joined LDC in Manchester as an origination manager – an "exciting challenge" where she could use all the skills she'd acquired. She is still doing this successfully as an origination director, having been promoted in 2020.
Encouraging women
Encouraging women When Sharman joined LDC there were several female professionals, but she was one of the first to take maternity leave. "LDC was fantastic – I couldn't have asked for a better employer. They really understood the need for flexibility and being able to provide a good work-life balance for working mothers having to look after young children."
Diversity at LDC continues to increase, she says: "Last year, 60% of new hires were diverse. There really is a push to have a more diverse workforce, for the benefit it brings. My experience gives confidence to new people joining, knowing the firm will be supportive. There's definitely been a positive shift in the eight years since I joined and that will evolve and grow.
"As we continue to make headway, we will see the benefits diversity in the workplace culture brings – with different nationalities, ethnicities and backgrounds. It will also benefit portfolio companies and our businesses nationally. And for transactions, businesses are going to be less likely to take investment from a company without diversity in its make-up. If they just see white men turn up to a meeting, it won't look like you're on the same page."
LDC has partnered and holds initiatives with Level 20, with the goal of getting more female representation at senior levels of private equity. The firm is also the largest supporter of young entrepreneurs for The Prince's Trust, having helped 1,600 young people, more than half female, to start their own business in the past three years.
"It is powerful when they hear stories of female CEOs and other successful women in private equity and their journeys," says Sharman. "Our partnerships are just an example of how we are taking diversity seriously. We are working hard to continually make ourselves a better team, better employers and better individuals."
A nation of regions
A nation of regions LDC's North West team roughly covers the area from Stoke to Cumbria, and from the Welsh border to the Lancashire border with Yorkshire. "Much of our competition is national, so we can't be in regional silos," says Sharman. "Our regional originators all collaborate and help each other."
Who makes up LDC's origination team around the country? In the Midlands, Craig Hinde is based in Birmingham. He first joined LDC as origination manager in 2015, spending a year as business development director of Inspired Thinking Group, before rejoining LDC as origination director. In Nottingham, Hannah Hutchinson covers the East of England and the East Midlands, having joined from BDO's corporate finance team in 2015.
Based in Newcastle, Zara Lane covers the North East and Scotland. Having qualified as an ACA with PwC, and worked for UNW and Grant Thornton, she joined LDC in 2015. Sophie Isaacs joined LDC's Leeds office to cover Yorkshire, from the BGF. She trained as an ACA with Deloitte.
Jonathan Caswell is an origination director who has covered the South since 2001, when he moved to LDC from Lloyds Banking Group. In London, Ed Lane is responsible for origination, having joined from PwC in 2019.
This article originally appeared in the June edition of Corporate Financier magazine – the ICAEW Corporate Finance Faculty publication.