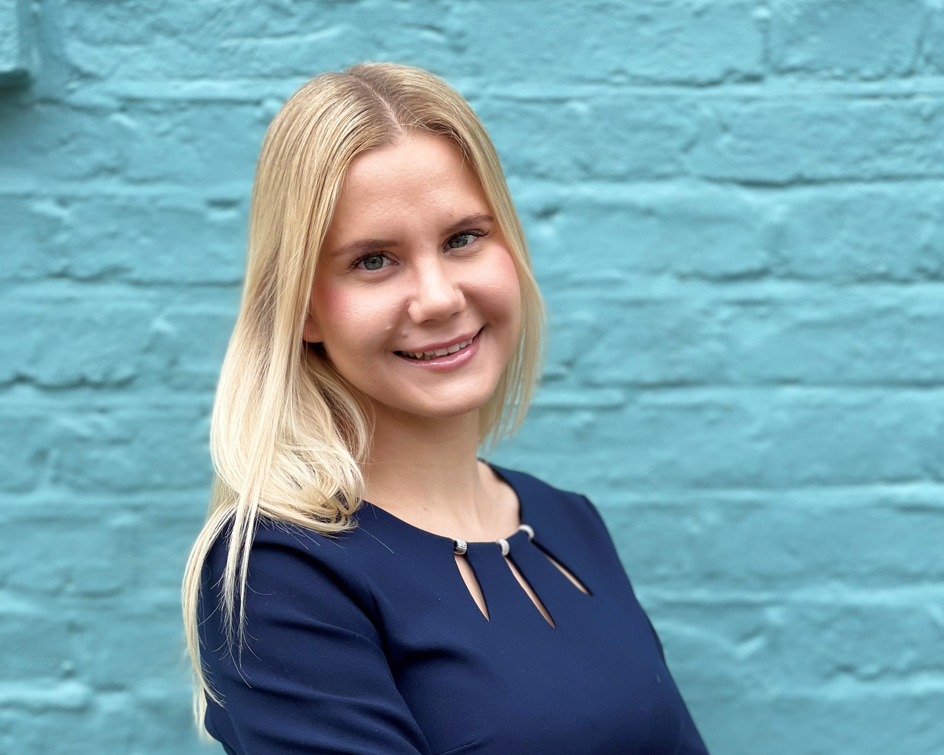 News
Clear Ambition
6 Jul 2022
Drive and determination to achieve her goals has seen Klara Klarowicz make it to Investment Manager at LDC. And she has plans for the future.
WHAT PERSUADED YOU TO TAKE UP A CAREER IN FINANCE?
I'm originally from Poland, but always wanted to do something different and study abroad to see what the world has to offer.  So in 2014, I left my family home came to the UK to study business and finance at Queen Mary University of London.  I have always been quite entrepreneurial and financially independent. At the age of 16 I had already started my own e-commerce business, selling handmade studded accessories online. Alongside my full- time degree in London, I also worked c.30 hours a week in a busy Italian restaurant to pay for my accommodation and living expenses. It was hard at times to watch my classmates having a more traditional student life, but I'm grateful for this experience. It helped build my resilience and gave me a head start in understanding the importance of developing relationships.  I'm quite driven and always try to think ahead to what is needed to achieve my next goal.
I did an internship at Warsaw Stock Exchange after returning from my year abroad at University of Miami, Florida, where I also joined the business fraternity- Alpha Kappa Psi and met like-minded ambitious young individuals who introduced me to the world of finance. During my time at WSE, I worked in a team that helped companies to IPO. The internship led to a part-time job in my third year, at Loot, a challenger digital bank aimed at students. I worked as Business Operations Executive in customer support and on financial crime prevention. It was really enjoyable as there were only 30 of us, and I could see the impact of my actions.
Upon graduating, I wanted to further develop my corporate finance skills. That led me to join the Lloyds Banking Group graduate scheme, where I also had a chance to study towards my CFA qualification.   
WHAT DID THE GRADUATE SCHEME ENTAIL?
The Lloyds Banking Group graduate scheme appealed as it had four different placements across two years, giving great insight into different areas of the business. My first placements were in financial institutions credit and real estate. That was followed by equity investments, arranging debt for equity swaps, which is where I had my first experience of private equity.
My last placement was at LDC, where it is incredibly competitive to secure a secondment. I spent time networking and making it clear I had an interest in working at the private equity firm. After one year on secondment where I worked on a variety of different investment opportunities, I was offered a position, and joined LDC as an Associate in 2020. 
WHAT IS YOUR ROLE NOW?
I have now been working at LDC for three years.  I'm an Investment Manager and am involved in every aspect of a transaction, from financial modelling to strategic reviews and creating business plans. I love the fact that we have direct access to management teams and can really make an impact.
On each transaction, we create individual teams, with an investment director and a partner alongside me. I write and present investment reports, participate in legal document reviews, tax structuring, and scoping financial and commercial due diligence workstreams. I am also a board observer for our portfolio company BOXPARK.
Given LDC's scale and heritage we have expertise across all sectors, but a lot of the transactions I have worked on have been in the technology space, which really excites me. Because we are such an active private equity house, I have already worked on five completed transactions and the past three years have been a steep learning curve. I really like the broad skillset required for this job, from the analytics required in the office and strategic insights, to the relationship-building elements when we're out meeting with management teams and advisors.
 WHAT DEAL YOU HAVE WORKED ON STANDS OUT?
Our investment and exit from Aker Systems, a company that builds and operates cloud-based data infrastructure for clients. During our 14 month partnership, we supported the management team to grow the business by more than 50 per cent,  increase R&D spend and hire more employees.
We exited our minority investment in September 2021. It was amazing to be involved through the whole private equity journey, from origination, execution through to exiting in a process that would usually take at least 3-4 years. The management team was growing the company quickly, and we worked with them to provide an exit that was right for the business and its leadership.
WHAT ARE YOUR AMBITIONS?
I'm passionate about increasing the representation of women and minorities in private equity, so it's great to work for a firm that is committed to addressing diversity and inclusion, both in its own business and across its portfolio. I've seen huge changes since I joined the business. In the last nine months alone, LDC has recruited 21 new employees and more than 65% of those are female.
I'm co-chair of the emerging talent committee at Level20, a not-for-profit organisation trying to tackle this issue. We host various workshops, networking events, and role model sessions. I'm part of the mentorship program at Level20 and have a senior male partner as my mentor. I also lead LDC's involvement with the organisation.
I'd like to see better utilisation of tech and data and harnessing the power of technology to help businesses to grow. It's an incredibly exciting opportunity for all businesses and I'm looking forward to seeing LDC and our portfolio to continue to adopt the latest technologies such as AI and data analytics.
And finally, I want to get more transaction experience under my belt so that I can lead investment teams and negotiations in the future.