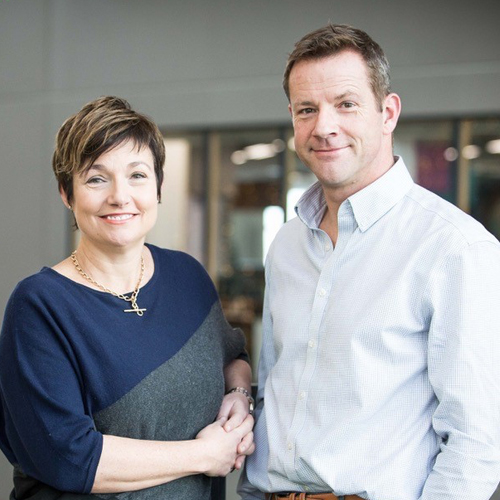 LDC Top 50 2018
Rachel Clacher and Ed Reeves
Co-Founders
Moneypenny
Rachel Clacher and Ed Reeves founded Moneypenny in 2000 to give a friendly face to businesses of all sizes, and now it's the largest answering service in the UK.
The ambitious brother and sister have now launched in the US, which is set to eclipse the £30m-revenue UK business within five years. Its success is all powered by its 700 UK employees and 50-strong South Carolina team, and plans to hire 300 more people in the coming years.
Q&A
How has the business evolved?
Ed: Five years ago, Moneypenny was all about replacing switchboard staff or providing remote PAs for large businesses. Now, we provide total communications solutions, such as hosted phone systems. Over the last 12 months, we've started capturing the opportunities that come with artificial intelligence, using the learnings from calls to add value for clients.
Where is future growth coming from?
Ed: At the moment it's all about the UK and America. We've only scratched the surface out there, and the US now generates 15pc of revenue. That will more than double over the next year. We want to be the largest player out there and we will be.
Rachel: We made our first acquisition this year and plan to keep making more – in the US too. We are only at the tip of the iceberg and it's exciting.
Have there been tough times?
Rachel: Trying to scale for the first three years was probably toughest. No one would lend us money because we had no track record. But it was also the best thing that ever happened to us: we knew where every penny was spent, we were answering client calls. Those were valuable lessons.
Where does your entrepreneurial spirit come from?
Rachel: We had an unconventional childhood, growing up in remote parts of Saudi Arabia. We had no TV, we were the only kids, and we learned to be resourceful. It taught us that we didn't need to pursue conventional careers.
Fast facts:
Ed is 50 and Rachel is 52
Moneypenny was founded by the brother and sister in 2000
Moneypenny is growing 20pc a year in the UK; 100pc in the US
The business employs 750 people
Offices in Wrexham, London, and Charleston, South Carolina
Ed and Rachel have consistently invested in growth. The pair now have the infrastructure and technology to pivot the business into a highly scalable and profitable niche: hosted communications."