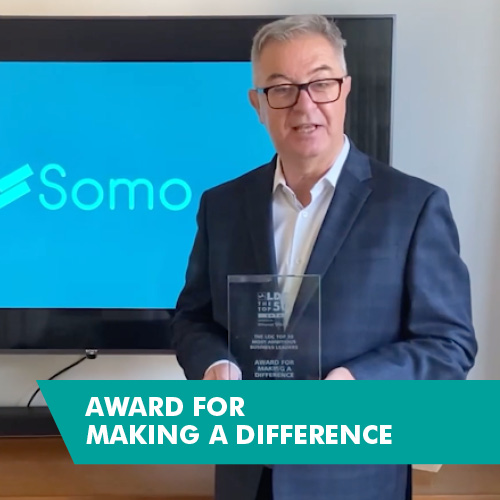 LDC Top 50 2020
Nick Hynes
CEO
Somo
"When I see an opportunity or problem I am inevitably drawn towards the execution of a solution," says serial entrepreneur and CEO of Somo, Nick Hynes.
This desire to improve on the status quo drove Nick to launch digital transformation agency Somo in 2010. He has since created ambitious digital projects with Audi in the UK and US, Vodafone and Siemens, and Somo is now trading internationally, with two offices in the US and one in South America. Nick is also committed to giving something back and is a lifetime fellow at The Prince's Trust to work with young people who need advice, mentoring and encouragement.
Making a Difference Award
Watch our Top 50 editor Rebecca Burn-Callander reveal Nick Hynes as the winner of the Making a Difference award. Nick has consistently made a difference to so many young people during his career with his work founding a digital board for the NSPCC, or his partnership with The Prince's Trust.
Watch the video
Q&A
Where does your ambition come from?
My family is Irish so building is in my blood, except I don't build roads or houses: I build companies and digital infrastructure. There was absolutely no money when I was growing up. I literally had holes in my shoes. That drove me to make something of my life, so I put myself through university, got a degree. Today, in addition to leading Somo, I'm also Chairman, non-executive director or major investor in 20 other digital businesses.
How important is it to make a positive impact in the world?
I got my economics degree from the University of East Anglia. I could only go because of a grant that covered all my tuition fees. So I now pay for an underprivileged undergraduate to attend that university. I also sponsor a PhD at the University of Bath where I did my MBA.
Beyond that, I'm a lifetime fellow of enterprise at The Prince's Trust. I work hard with young people who need advice, mentoring and encouragement. I work with them to get over the bumps in life. I'll never be able to repay all the people who helped me throughout my career. I see it as my absolute duty to help the next generation, whether that's through advice, seed capital or connections. When the need arises, I don't say I'm busy or give a fiver, I lean in.
Tell me about your international vision?
60pc of our revenues come from the UK and Western Europe, and 40pc is from the East Coast of the US. We opened up in South America in February. We have 60 people in Charleston, South Carolina, and Arlington in Washington DC. I have always operated international businesses. That's my bread and butter. I worked for British Airways for many years. I pioneered paid search advertising at Overture before it was acquired by Yahoo! And I started marketing agency The Search Works.
The only real problem I have is that there are only 168 hours in the week."