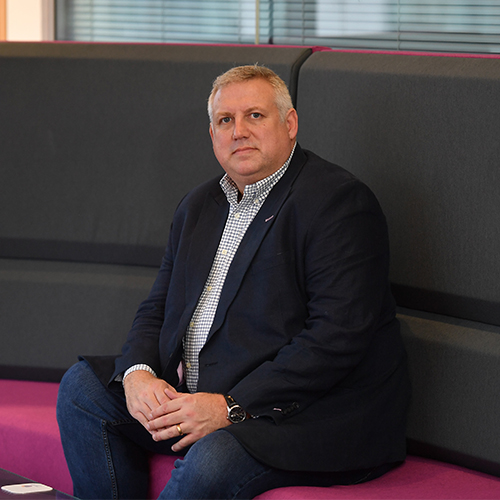 LDC Top 50 2020
Jim Darragh
CEO
Totalmobile
Jim Darragh is the man you turn to when you want to professionalise and rapidly scale a technology business.
"This is my fifth time as CEO of a software company," he explains. "I'm the guy who takes a good idea and makes it work." He took the helm at Totalmobile in 2016 and shifted the field service and mobile workforce management platform into the cloud, switching to a software as a service payment model. It was painful at first, he admits, but the changes have ultimately supercharged growth. Totalmobile grew 70pc last year to hit £20m turnover. Jim's next move: "I want to internationalise." he says.
Q&A
Where does your ambition come from?
Bizarrely, as a kid, I was always the appointed leader. I was the school captain, the captain of the rugby team, and so on. I struggled with the responsibility but it's something I've learned to be more comfortable with. I spent a while working for big companies, but those experiences taught me that I need to plough my own furrow. I found them stifling. I like to grab teams of incredible people and achieve fantastic things.
What has been your toughest moment at Totalmobile?
I underestimated the effect of moving to a software as a service model. Instead of taking all the revenue day one, we moved to spreading it out over a number of years. We thought we could manage the transition slowly but we turned on the new model and 80pc of the customers made the switch straight away. At the time, I thought, what have I done? It was horrible in the short-term but, in hindsight, at least it was over quickly. We model our budgets a lot harder now and stress test them.
What's your greatest weakness?
I always want to please people, which means I take things personally. The thing that hits me hardest is when someone leaves or thinks we underperformed. If a customer doesn't get exactly what they wanted, I feel that. I'll jump on the phone and do whatever it takes to put it right. As hard as it is, you need to take things personally to be successful in business. You can't just think, 'Oh, another customer or employee will be along in a minute.'
My vision is to create something truly phenomenal with Totalmobile."