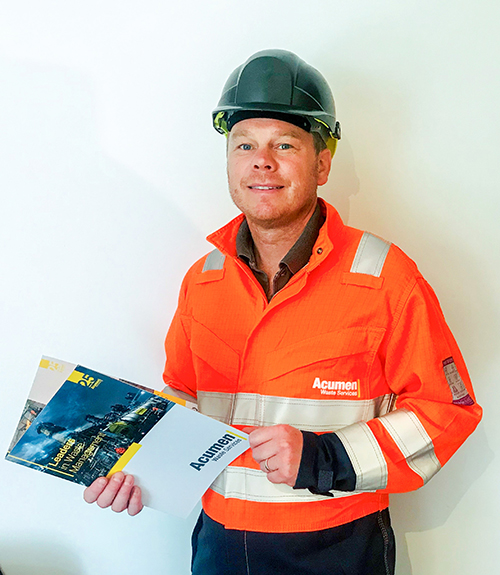 LDC Top 50 2020
Andy Crossley
Managing Director
Acumen Waste
When the UK's Environment Agency found out that 4,000 tons of our rubbish had been illegally dumped in Poland, it turned to Andy Crossley to sort out the mess.
His firm, Acumen Waste, which is based in Yorkshire, aims to bring transparency to an opaque industry, through focusing on compliance, safety and social value. "We are a one-stop shop and we do things the right way," Andy says. Unusually for the sector Acumen's salaried workforce is over 50pc female, and the business brings people in as apprentices. "My version of utopia would be if everyone came up through our academy system and we never had to recruit again."
Q&A
Tell me about how you got to where you are today?
Fate and chance certainly played a role. Acumen Waste was a supplier of mine at my previous company. I met the founder for coffee and we just clicked. I saw an opportunity for evolution on both sides.
What was your sole aim when you joined?
It was a very entrenched mature business when I came on board. It's often quite hard to steer a super-tanker like that – or put the brakes on. But I've done it. Turnover was £9m when I joined eight years ago and we've grown it to £17m. That may not sound profound but we've done that against a backdrop of a changing marketplace – the UK's heavy industrial manufacturing and chemical industries are just not what they used to be,  so we've had to diversify into new markets and service offerings. That £17m is probably £15m more than we would have had if we'd stuck with what we were doing.
How have you built a winning team?
Our senior leadership team is made up of two men and two women, which is quite unusual in this industry. Over 50pc of our salaried workforce are women, which creates a great working environment. Our academy has also been key to our success. We bring people in and train them and we're having great success with that, for example, our financial controller joined as an apprentice. My version of utopia would be if everyone came up through our academy system and we never had to recruit again.
Where does your ambition come from?
From the age of two, I've suffered from rheumatoid arthritis, which knocked me off my feet – quite literally. I've had a double hip replacement but all this has done is give me even more fight. I believe that the pain I experienced as a child made me more determined and dogged. When you go to a rugby-playing school in the North and you walk with a limp, you soon learn to toughen up.
We bring people in and train them… My version of utopia would be if everyone came up through our academy system and we never had to recruit again."