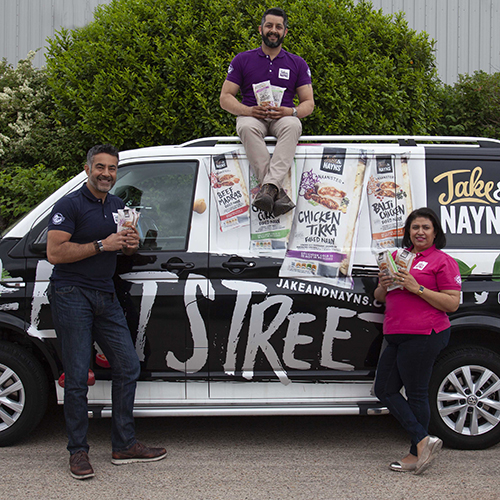 LDC Top 50 2020
Jake Karia
Managing Director
Jake&Nayns'
Forget sandwiches and pasties, Jake Karia is revolutionising lunch with burritos, samosas and naansters – "It's like an Indian Cornish pasty".
His street food brand, Jake&Nayns', is stocked in Sainsbury's and Coop, and he's already exporting into Europe. The business makes over 60,000 products a week, turns over £8m and Karia has ambitions to reach £15m by 2022. Product innovation will be key to growth: "We've just brought out the naga chilli naanster, which is seriously hot, and we're working on a new range of handheld snacks and rice protein pots." Jake adds: "I want Jake&Nayns' to be a household name. We'll be the next Ginsters."
Q&A
Where does your ambition come from?
I was that kid selling pencils and pens in the playground but, honestly, I think business is in my blood. I came to this country from East Africa in 1970, as part of the Idi Amin exodus. We were forced to leave because of our culture: he hated entrepreneurs and intellectuals, and business is in our DNA. I left school at 16 and got two jobs. I worked in a fancy designer menswear shop during the day, then I'd leave wearing Jean Paul Gautier and change into nylon trousers and crimplene and work till 2am at Pizza Hut. I have never been afraid of hard work. I would say that money is a driver, but not the most important one. It's more about having the ability to act on my ideas without having to run them by anyone else. That's what it's all about for me.
How has the brand evolved over the years?
We used to try to be all things to all people. We produced food for the high street restaurants, to pass off as their own. A chef would call and ask if we could make something – a completely alien product we'd never cooked before – and we would do it. We ended up making short runs of complicated products because we were good at it and to protect relationships but then we learned to be pickier. We still do a little bit of restaurant business but the main focus is Jake&Nayns' now. We send out over 60,000 products a week! We're feeding an awful lot of people.
What's been your darkest moment at Jake & Nayns'?
We've had some catastrophic failures over the years. The first was during the 2009 recession. We had been very trusting and given credit all over the place. Suddenly five customers went into administration and that wiped out our cash reserves. We had to start again from scratch. Experiences like that make you more battle-hardened. We are more calculated in the risks we take now.
I want Jake&Nayns' to be a household name. We'll be the next Ginsters."