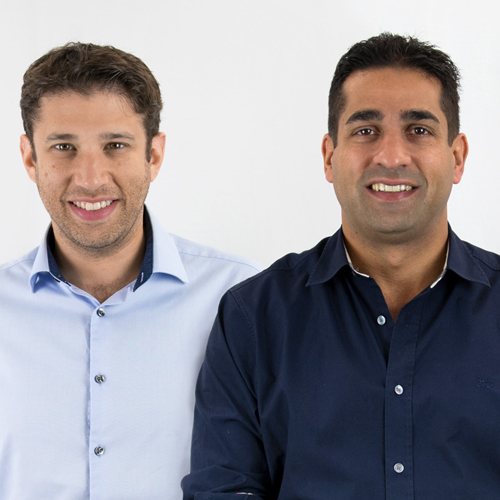 LDC Top 50 2018
Dr Allen Hanouka and Dr Guy Braverman
Co-Founders
Gama Healthcare
Former hospital doctors Dr Guy Braverman and Dr Allen Hanouka have created the unsung hero of the healthcare system. GAMA Healthcare's wipes and infection prevention products are used in hospitals and medical centres across the world to make sure germs aren't passed between patients.
Friends Guy and Allen founded the business in a bid to save lives and make fellow doctors' lives easier. Today, the business has 100 different products sold into 60 countries worldwide.
Q&A
Where did the idea come from?
Guy: We were working as doctors at the Royal Free Hospital in London and going from patient to patient with our stethoscopes. Back then, there was nothing to wipe it with to keep it sterile. That was the lightbulb moment for us. We decided to develop a wet wipe because hospitals needed a quick and easy solution. Now we employ 98 people across the UK, China and Australia, and have 100 different products that we sell into 60 countries.
How do you support each other's ambitions?
Allen: We were friends before we became business partners, which meant we really trusted one another. That benefitted us right from the beginning because you can be honest about your strengths and weaknesses and help each other. I run sales while Guy handles R&D and marketing. It's also great that we are both doctors because we understand the healthcare system and the needs of the customer.
How do you drive growth?
Guy: We invest heavily in R&D. Right now, we have 17 new products in development. This will help us reach our target of £75m in revenues within three years. We've built our own lab in Yorkshire to help us drive innovation even faster. The aim is to be the best infection control brand in the world. We ask customers what they want and then we make it.
What does success look like?
Guy: I want GAMA to be a billion-pound company in 20 years' time. Clearly, some of our goals are commercial but the thing that actually excites me the most is seeing our products used in hospitals. That fills me with pride.
Fast facts:
Allen is 44 and Guy is 39
Guy and Allen met as junior doctors working at the Royal Free Hospital
They founded GAMA Healthcare in 2004
Employs 98 staff and turnover in 2017 hit £33m
The UK remains the biggest market, but GAMA sells into 60 countries