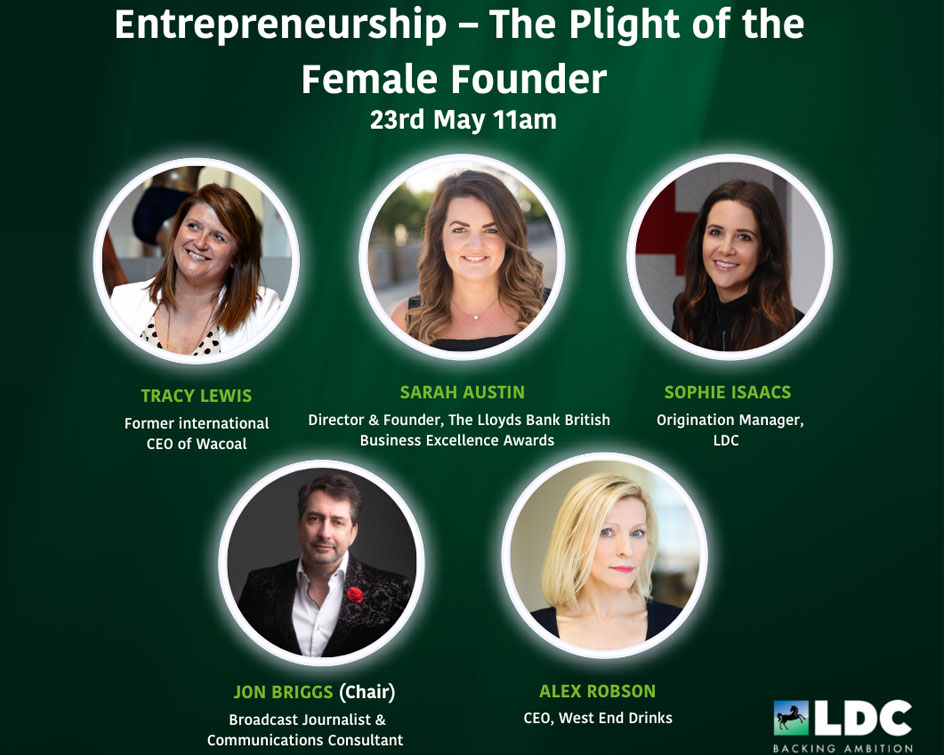 News
The Plight of the Female Founder – Webinar
25 May 2022
With the hard truth that female founders have only received 1.3% of all venture capital funding since 2017, the gender divide has become clearer than ever. This, along with wanting to encourage and empower female entrepreneurs, led to the creation of 'The Plight of the Female Founder' webinar – bringing together successful businesswomen across a spectrum of industries to discuss how to expedite change for 2022 and beyond.
The panellist's joining Sarah Austin, Founder & Director of the Lloyd's Bank British Business Excellence Awards, included:
      Alex Robson – CEO & Founder, West End Drinks
      Tracy Lewis – Former International CEO of Wacoal
      Sophie Isaacs – Origination Manager, LDC
The event was chaired by Broadcast Journalist & Comms Consultant, Jon Briggs.
Against the odds
The webinar kicked off with introductions all round, but truly started with a poignant fact, setting the tone from the off, direct from Alex Robson: "A McKinsey Global Institute Report has found that if women were funded correctly, we would add $12 trillion to the global economy. That's quite a lot if you ask me." This statistic established early on, not only the disparity between gender-based investment but the intrinsic value in correctly funding women-led enterprises.
This sentiment was echoed by Sophie Isaacs, Origination Manager at LDC, who claimed that 'only between 5-10%' of the founders she meets are women looking for investment. The reasons for this were discussed at length throughout the seminar, with the prevailing sentiment being that a societal-based issue has plagued equality since the beginning of time – with not enough being done to instigate inner-confidence in young women and girls that business and entrepreneurialism are viable and celebrated pathways to pursue.
Highlighting this issue further, Tracy Lewis, Former International CEO of Wacoal stated: "As much of an issue as this is for business, it really is greater than that, one that is societal and impacting all aspects of the gender-divide." Tracy went on to describe how societal and educational influences have been built to where female business leaders are more risk-averse, and less likely to appeal for support – be it financial or advisory – which is an incredible detriment to change in 2022 and beyond.
Societal implications affecting women to a greater extent than men was a hot topic in this female-led webinar, with a focus on burnout. Sarah Austin said: "I started my business as a new mother and during a time where my industry was effectively illegal. Over time this has led me to multiple bouts of burnout, negatively impacting my health in the process. Women experience this worse than men due to underrepresentation and lack of support across the board."
Key obstacles
Jon Briggs, the chair of the summit, opened the next topic with a probing question into what obstacles are being put in the way of women across the board. Sarah said: "I was self-funded – I was coming from an industry where I had been institutionalised, funding wasn't even on my radar." Knowledge is power, and hindsight is twenty-twenty, but that lack of intrinsic information available regarding starting your own venture as a woman was evidently a hindrance. This could be rooted in regional societal issues, or education in general.
Alex posits that education is a particular obstacle: "Business is just one small aspect of life. Society and education are where the issues really stem from. More must be done to prevent the division of the sexes and emphasise merit-based achievement. We've come a long way, but it feels like we've now stopped. Even going backwards at times."
Another key obstacle highlighted by the panel was female empowerment. Sophie explained: "We are simply not doing enough to encourage other women to succeed in business. This is for sure a societal problem, but more can be done." The concept of 'society' is one that was touched upon significantly throughout the webinar, clearly identifying the need for change on a level impossible to achieve without widespread, systematic adaptation. This is a long-term effort that will not be fixed overnight, but, in the meantime, so much more can be done on a more micro, personable level.
The best advice
To close out the insightful hour-long seminar, Jon posited the questions – "What was the best piece of advice you were given? What, in turn, is your best piece of advice to give?"
Tracy said: "Unfortunately enough, I had no advice before investment. You pick up snippets along the way, but never any direct advice from my own experience. But what I would say, to any prospective businesswoman, my mantra is 'the proof is in the results'. Trust the results and you can't go far wrong."
Alex said: "As with Tracy, I sadly had no direct advice. What I did have was indirect advice in which a room full of people were discussing the way forward for the business, and one simply stated – 'Alex can do it!' This stuck with me and is the affirmation I'd love to impart on any woman starting this journey.. you can do it!"
Sarah added: "The best advice I received was from none other than Dragons Den star – Ms Sara Davies – who turned to me and said – 'I'm always here if you need me, always be true to yourself.' This really resonated with me. So, the advice I would give is to just remember that you are always being watched by younger women – be their inspiration, be the role models they need to continue the fight for equality."
The pursuit for equality is one that transcends business. It impacts us all on both macro and micro levels, affecting both thoughts and actions. Women in business will continue to champion female-led organisations and entrepreneurs, becoming mentors for change and pushing for an equal tomorrow. After all, the term entrepreneur is without gender – something we must educate society on until real progress is made.
To watch the full webinar please visit here.
LDC is sponsoring The LDC Entrepreneur of the Year award at The Lloyds Bank British Business Excellence Awards. Find out more here.