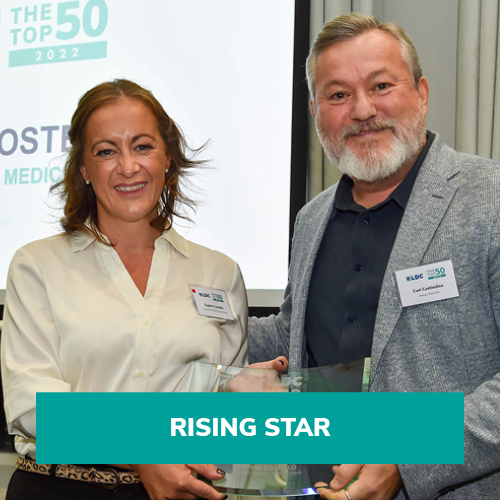 LDC Top 50 2022
Sophie Costello
Founder
Costello Medical
Sophie Costello started her own medical consultancy in 2008, after her younger brother suffered a life-changing brain injury. "I'd always wanted to start my own business but I wasn't brave enough to take the leap," says Costello, who holds a Masters in Bioscience Enterprise from the University of Cambridge. "That traumatic event forced me to reassess my own situation. Life's too short to do something you don't enjoy."
Headquartered in Cambridge, with international offices in Boston, Singapore and Shanghai, Costello Medical now employs 300 people and became a B Corp this year: "We're a company that tries to be a force for good."
It still feels like we're just getting going."
Q&A
Where does your entrepreneurial spirit come from?
My parents ran their own manufacturing company so I went into this with my eyes open. From an early age, I understood that running your own business is a life choice. It comes with pressures and responsibilities, and the buck stops with you. I also saw the satisfaction they got out of it; they were in something together.
What motivates you?
The amazing staff at Costello Medical! We tend to hire people in their early 20s, straight from their undergraduate degrees. We want to offer limitless careers. Most of our leadership team have been with us since the beginning; they've grown with us.
What are your ambitions for growth?
I started the business with my husband in 2008. If you'd told me, back then, that we'd be running a business with a £20m turnover, 300 staff and offices around the world, I wouldn't have believed you. I never dreamed it could be this big. But it still feels like we're just getting going. We want to set up offices in Australia, Canada and mainland Europe, and expand into real-world evidence and health policy.