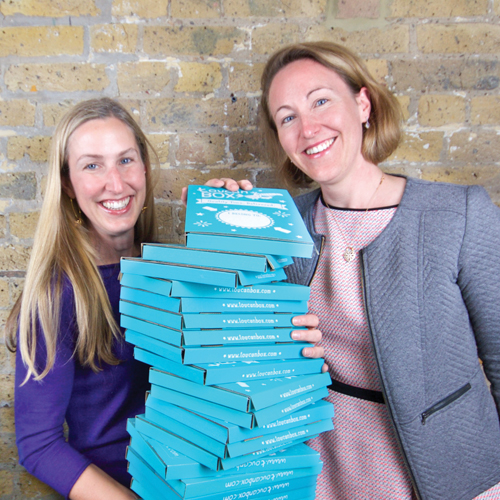 LDC Top 50 2018
Sara Barokas and Virginie Charlès-Dear
Co-Founders
toucanBox
Calling on her experience as a working mum, former investment banker Virginie Charlès-Dear partnered with Montessori teacher Sara Barokas to solve the problem that while children love arts and crafts, busy parents often don't have the materials to create fun projects at home.
toucanBox delivers an age-appropriate parcel of crafts through the letterbox and with expansion to Europe and the US already under their belts, the duo has ambitions to be as big as Lego.
Q&A
What gave you the idea for toucanBox?
Virginie: Five years ago, I had two small children and wanted to find a way to occupy them in an educational way, while developing their creativity. I started toucanBox to solve my own problem: a parcel delivered to your door containing everything you need to make something with your hands. Now, we ship 150,000 boxes each month and the company doubles in size each year.
What are the drivers of future growth?
Virginie: At the moment we're focusing on the 3-8 years age group but soon we will launch ranges for older and younger kids, and for adults. There's a big trend for adult crafts – colouring books are very popular right now. A year ago, we also launched into several European countries and we're now testing in the US, which could be a really big market for us. Around 25pc of revenue comes from outside the UK but we expect that to rise dramatically.
What motivates you?
Sara: I am motived by the hands-on learning experiences that customers get when they get a toucanBox. That connection to physical experiences that enhance learning is so important, and I sometimes feel we've lost some of that in today's world. I love that kids have fun using our product and are learning the whole time.
Virginie: I'm competitive and love to win. I don't like being comfortable; I seek change and new experiences. My husband and I both started companies at the same time, with two small children – now three. People thought we were crazy. We had no income but it was great because we were sort of in competition with each other. Fortunately, we have both been successful.
What is your ultimate ambition for toucanBox and what has been your proudest moment?
Virginie: Our dream is to be as big as Lego. Every child has a box of Lego at home and we want to be just as big and successful with toucanBox. We want to help people of all ages to be more creative.
Sara: Do I have to choose just one!? I am so proud of all the work we do here at toucanBox, but I think the most recent "proud moment" was when we launched our new STEAM magazine, which comes with our boxes, and includes puzzles, games and recipes. We revised our old magazine to add in even more fun learning experiences and it has been very well received by parents and kids!
Fast facts:
toucanBox sells to the UK, Europe and the US
25pc of revenue from outside the UK
Doubles revenues each year
Ships 150,000 boxes each month
Employs 38 people
The craft market is huge and still growing fast, and toucanBox is winning fans as young at three. It's also great to see entrepreneurs offering kids a break from the screen, giving them a creative alternative to the iPad."