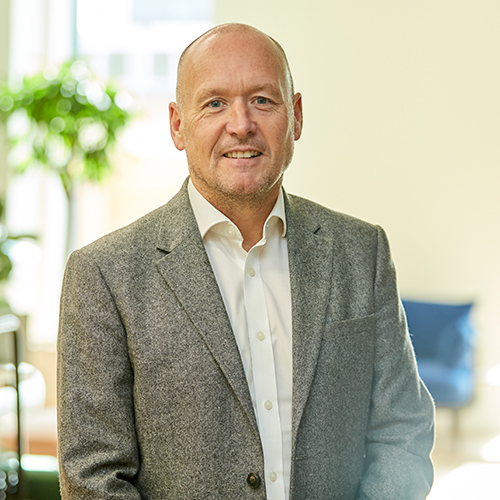 LDC Top 50 2023
Paul Pugh
CEO
Mason Advisory
When Paul Pugh joined technology consultancy Mason Advisory he was impressed by the team's talent and commitment to delivering great outcomes for clients, but there remained a real opportunity for growth.
He subtly changed the firm's focus to provide clients with multi-disciplined resources: "I wanted to empower others and instil confidence that our approach was unique, and our skills extremely relevant to the market," he says. Pugh led from the front. He has taken revenues from £3 million in 2017 to £24 million today. He gave up a successful career in professional services to embrace entrepreneurship: "Our ambition is to double in size over the next four to five years."
We want to nurture our talent, give back to the profession by sharing knowledge, and bolster diversity and inclusion by attracting a wider range of people into tech."
Q&A
What excites you about the future?
I am passionate about our plans to launch a Mason Advisory Academy next year. Everyone in our business is extremely talented and experienced in their area of specialism. We focus on sharing knowledge and insights, and it is essential that we continue to collaborate and pass on knowledge to the next generation of technology and digital specialists. It's also important that we continue to give back to the profession, and bolster diversity and inclusion by attracting a wider range of people into tech through our Academy.
What's been your biggest mistake?
It's not necessarily a mistake, but with the benefit of hindsight we would have structured our go-to market strategy slightly differently – by aligning teams around skills rather than sectors. Consultants love to solve complex business problems, and by structuring our skills within sectors we lost some of our economies of scale and ability to collaborate and knowledge share. That said, we have been able to quickly course correct, and our teams are already seeing the benefits.
What has helped you build resilience?
Coming from a working-class background, with both parents working 9 to 5 six days a week, you must adapt as a family, learning to work together as a strong family unit and sharing the family chores. From this you quickly learn that being respectful to others, rolling your sleeves up and pitching in is much more fun than standing on the sidelines complaining. Hopefully, this has made me more rounded and by taking the same approach in my professional career has led to me being a more respected colleague.