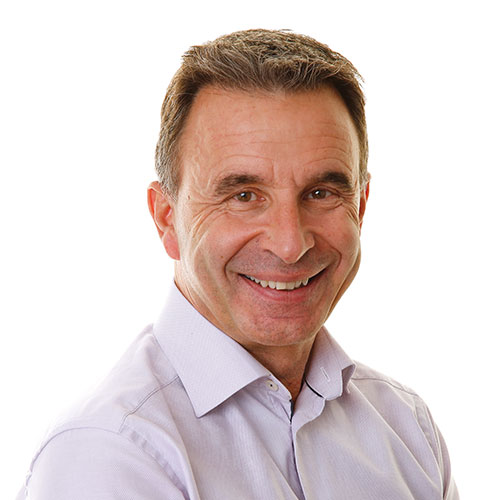 LDC Top 50 2020
David Belli
CEO
Medstrom
David qualified as a Chartered Accountant with Arthur Andersen in Birmingham in 1989 and after a long career in the medical equipment industry launched Medstrom in 2010. His Derby-based company started out offering managed service contracts to the NHS, supplying and maintaining specialist equipment for the treatment of pressure ulcers.
Since David launched Medstrom it has grown significantly, today managing over 30,000 items of equipment for NHS hospitals and employing 225 people across the UK and Ireland. His team recently supplied thousands of beds to field hospitals as a response to the Covid-19 pandemic, and together they are now developing Medstrom's own range of branded products. "We are also looking to expand into international markets in 2021," David says.
Q&A
How have you got to where you are today?
After a short spell working in London in the financial recruitment industry I returned to Birmingham and joined a company called Hill-Rom  in 1992. Hill-Rom is the largest hospital bed manufacturer globally and I worked there for 18 years as finance director and subsequently operations director, helping to grow the UK company significantly over that time. Then I got the chance to do an MBO in 2010. I bought the bed management division from Hill-Rom, and in January 2010 launched the new company as Medstrom, taking on over 50 employees together with 15 large NHS contracts. I had always wanted to work for myself and had a burning ambition to be my own boss.
How has the business been affected by COVID-19?
Like most businesses, it has been a very challenging time for Medstrom and we have seen fluctuations in demand across the business. Despite this, our team has been fantastic. They have pulled together and truly delivered for our customers. We supplied thousands of beds to field hospitals during March, April and May, whilst at the same time we have seen a temporary downturn in our core business as non COVID patient treatments have decreased and large equipment tenders have been postponed.
I'm proud that we have been able to get through the past few months without putting any of our people on furlough, and at one point we had to double our headcount in manufacturing as a result of increased demand. We saw employees from across our head office and sales teams volunteer to work in the factory so that we could meet demand and it's this fantastic spirit and teamwork that underpins the growth and success of Medstrom.
What's your five-year plan?
We opened our own factory last year and we are now developing a range of Medstrom branded products. The next stage for us is to move into international markets in 2021. We have a subsidiary in Italy, and distribute into Switzerland, the Netherlands and Austria. You can't afford to be complacent in a business like ours and we are constantly looking to innovate to help meet the needs of our customers in an ever challenging healthcare environment.
We have been able to grow our business while retaining a very strong set of principles – we are still 100% owned by our very experienced management team and we are not looking to build up the company  just to sell it. Building a business model that delivers sustainable quality, growth and innovation is really important to us. As an owner managed business we set long term objectives and are not tied to short term financial targets. We reinvest operating cashflow back into the business and this longer term approach has helped grow turnover from £4m to nearly £25m in the last 10 years. This will continue to be at the heart of how we do business and will drive further growth in the next 5 years.
Sustainability will continue to be at the heart of how we do business – we believe our focus on investment and innovation will continue to deliver significant growth."