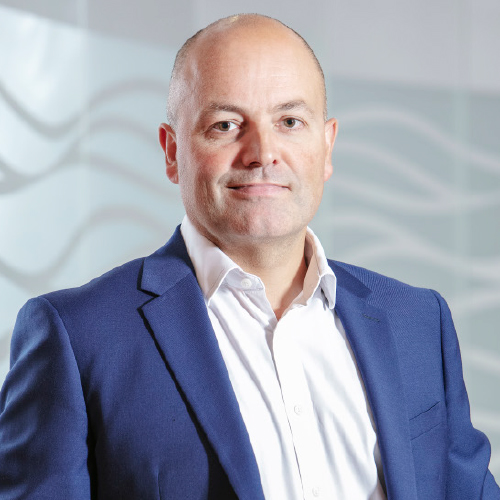 LDC Top 50 2019
Dan Wright
Former Chairman
Vision Support Services
Guests at the Hilton and Dorchester hotels sleep on sheets sourced and laundered by Vision Support Services, a textile specialist that comprises three heritage brands.
The company was led by turnaround specialist Dan Wright from 2005 until June this year, and revenues rose tenfold to £65m under his leadership. Dan comes from a family lineage of textile entrepreneurs so he has a deep understanding of the market and the importance of customer service. He explains: "From Dublin to Dubai, our products are all of the same high standard. Hotels like the Hilton were crying out for that kind of service."
Q&A
For you, what is ambition?
It is somewhere between the fear of failure and risk of regret. Also, you get a taste for knowing the effort you put in will reap rewards, in terms of improvement in the business. My father and grandfather were both entrepreneurs – before that was even a word. Both had successful careers in textiles. That's probably part of it.
How have you grown your business in the last 5 years?
In 2005, when I came on board, Vision Support Services was struggling. I moved the business away from retail to focus on hospitality: we supply the swankiest hotels in the world. We have capitalised on the heritage of our brands: Hildon was put together by James Hargreaves after he invented the spinning jenny; Whitakers has been a supplier to the Ministry of Defence since the Crimean War; and Liddell has been supplying high-end linens since 1866. Exports have become really important to the business. From zero, it's now 45pc of overall sales.
What has been your biggest mistake to date? What did you learn from it?
We tried to make our product range too diverse, and acquired a furniture company. It was too much too soon, so we had to shut down that part of the business. We accepted we were wrong and moved on. Forgetting that we were a specialist textile business was the mistake.
I like fixing things. It's rewarding to feel like you've put something back on its feet. When I joined, Vision Support Services was turning over £6m and this year it will turn over £65m."