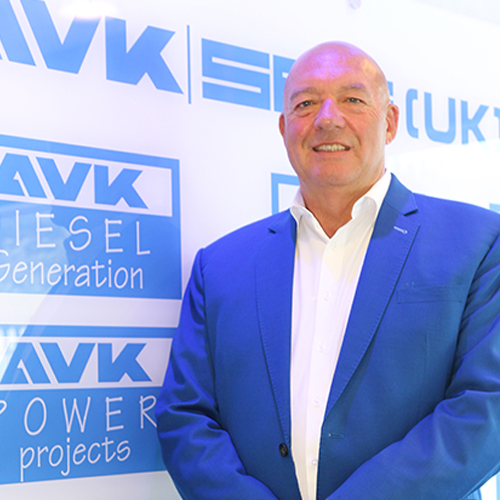 LDC Top 50 2020
Chris Pritchard
Managing Director
AVK-SEG
Chris Pritchard designs and sells standby and uninterruptable power systems for banks, hospitals, data centres and any organisation running mission-critical technology.
The electrical engineer has big ambitions to become a £100m business within five years. AVK-SEG stays ahead of the competition by staying ahead of the curve on technology. "We were the number one in diesel generators but we've moved towards low-emission gas systems, smart batteries, and hydrogen generators," he says. "You can't stand still or you'll be left behind." Chris credits an engaged and hard-working team for the success of his Maidenhead-based firm. "We've paid staff a bonus every year for 30 years," he says.
Q&A
Tell me about how you've got to where you are today?
When I was growing up, I never had a dream or a mapped out career but I was always very competitive, playing a lot of sport. That's been a constant throughout my life: whatever I do, I want to be the best. When I started out as an apprentice engineer in 1975, I was the apprentice of the year. I spent 10 years gaining all my qualifications and then fell into critical power because I worked for a company selling those products. AVK-SEG was established in 1989, and I have the full shareholding. It was a gamble at the time. I was 30 years old and we'd just had our first child. I was stepping out of a secure job but the decision has paid off.
How has COVID-19 affected business?
We are keyworkers because we support hospitals and data centres. It's been business as usual for us. Most of our staff are back working at our headquarters in Maidenhead although our London office is still closed. Anyone running on a slim balance sheet would be worried but we're set up to handle unknowns – even COVID-19. We'll still hit our target of £58m in turnover this year.
What are your international ambitions?
We follow our customers all over Europe. We now have projects in Amsterdam, Milan, Frankfurt, Stockholm and beyond. We compete with massive global players – even though we are a small family business – because we offer an exceptional level of service and delivery.
It's taken blood, sweat and tears but we have flourished. It's been one incredible ride."