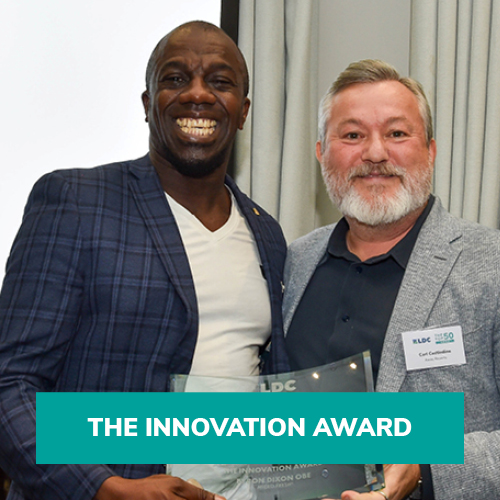 LDC Top 50 2022
Byron Dixon OBE
Founder
Micro-Fresh®
One of five siblings, chemist Byron Dixon was raised on a council estate in Leicester by his single mother, a Jamaican immigrant. "I was bored and disruptive at school but I loved chemistry. It was like magic," he says.
He worked for ICI Leather Finishes Division and ECCO shoes before developing the Micro-Fresh® formula in 2006. Dixon's invisible anti-mould treatment is now used by more than 50 retailers including John Lewis, Next and Adidas. His goal is to crack the US market and go global: "I want us to become the GORE-TEX of freshness," he says.
I want Micro-Fresh® to become a verb."
Q&A
What are your ambitions for Micro-Fresh?
First, I want Micro-Fresh® to become a verb. Second, I want us to become the GORE-TEX of freshness. Third, I want to build a global brand. Our next step is to smash the US market. Nobody out there is doing what we're doing.
Where does your entrepreneurial spirit come from?
My mum raised five of us on her own on a council estate in Leicester. We didn't have a lot. When I was nine, a friend gave me an old chemistry set. It was my favourite toy. I couldn't afford to go to university at 18 but I later secured a degree in chemistry from The Open University. I've met a lot of entrepreneurs who are from similar backgrounds. We have this natural fight in us but we're also not afraid of losing. We've been through it all as kids.
I was always told to treat business like a plunge pool. Jump in with both feet and just go for it. And it's true: the bigger the risk, the bigger the reward.
How do you stay innovative?
I have a ridiculously short attention span and am constantly thinking of new things. I've learned that the smartest thing is to take just 10pc of your most useful ideas, then talk to your team about how you can commercialise them. We work with three universities – Aston, Leicester, and De Montfort – to develop new products.