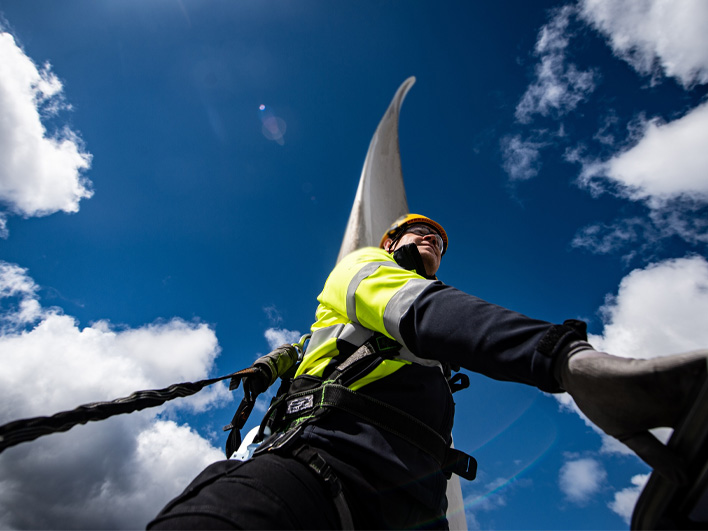 News
Boston Energy helps world's largest offshore wind farm generate first power
1 Nov 2023
We're thrilled that GE Vernova have entrusted us to deliver the onshore and offshore commissioning of this truly exciting, and transformative project. "
Julian continued: "GE has recognised that Boston Energy has a very strong track record of delivering exceptional quality on its projects as well as ensuring it delivers to budget and to the highest safety and environmental standards.
"We now need to get on and deliver to those same exacting standards that GE Vernova expects."
With GE Vernova's support, Boston Energy is expanding the opportunities for local technicians in the North East to progress in the wind industry and join this remarkable project.
To demonstrate its commitment to local content, Boston Energy has employed 80 per cent of its offshore team and 85 per cent of its onshore team from the North East, supporting clean energy jobs in the region.
As well as providing local technicians to the Dogger Bank project, Boston Energy is providing further opportunities for the local community at its newly-opened, on-site office, having already employed a local team supporting the Dogger Bank operations, with plans to expand further as the project develops.
The project comes at an exciting time for Boston Energy, as leading private equity investor LDC has made a significant investment in the company as it targets further international expansion, helping to respond to the growing demand for services at pace and increasing investment in technicians.
Dogger Bank Wind Farm is a joint venture partnership between SSE Renewables (40%), Equinor (40%) and Vårgrønn (20%) with SSE Renewables leading on the development and construction, while Equinor will operate the wind farm on completion, for its expected operational life of around 35 years.
Simon Bailey, Dogger Bank Wind Farm Commercial Director for SSE, said: "It's great to see another key contractor creating job opportunities to support the construction of Dogger Bank Wind Farm.
"Construction and commissioning of turbine technology is a critical element of our programme that will help us to steadily ramp up to full operating capacity of 3.6GW by 2026."
The Dogger Bank project is due to be completed in 2026 and Boston Energy is looking forward to working closely with GE Vernova throughout the next three years and beyond.
For more information on the services Boston Energy provides to the global wind energy industry, visit here.