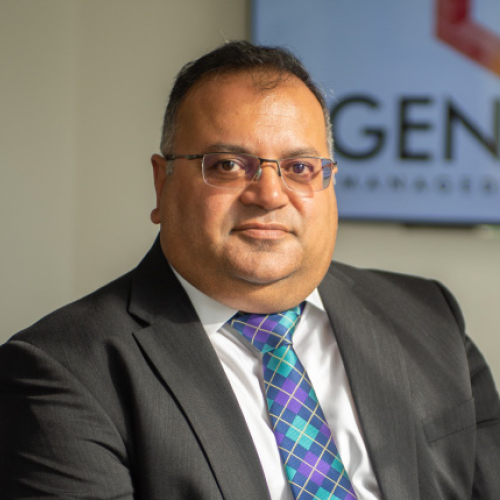 LDC Top 50 2019
Robin Modak
Founder
GENMED
One word sums up Robin Modak: determined. He came with the idea for a disruptive new business in 2002, one that would supply services, equipment and consumables to the NHS – saving it money and making it a lot more efficient. He attempted two joint ventures but his partners failed to realise his vision. In 2005, jobless, with two small children, he decided to do it alone, launching GENMED two years later.
Today, he is revolutionising the way the NHS procures everything from scalpels to Hepatitis C testing equipment. GENMED is used by 40 NHS trusts and manages contracts worth £220m. Robin's determination will see the firm reach £500m in revenue by 2022.
Q&A
What is your personal ambition?
I get very frustrated if I can't see an idea through to completion. I knew that through managed services, we could transform the NHS. You need ambition when working with customers like the NHS. It can be very slow-moving; some contracts take four years to come to fruition. But now that we are established, growth will accelerate. In five years, GENMED will be a £1bn business, working across the UK and Europe.
How have you grown your business in the last five years?
We are a true disruptor in the marketplace because we are vendor neutral. We provide the NHS with best-in-class services and materials – we are not limited by being tied to a single supplier. This means that trusts typically want contracts with us that last up to 15 years. Working with us also allows hospitals to claim back VAT on the materials we purchase for them. That money goes straight back into the NHS.
When you were growing up, what was your dream job?
I've always been very entrepreneurial, so I knew I wanted to work for myself. When I was at school, I started building guitar fuzz boxes and selling them for £10 to classmates who wanted to be the next Johnny Rotten. My degree is in physics, but I later did an MBA. When I saw the potential of a hybrid model, I couldn't let the opportunity waste away.
GENMED has already made a massive difference, making the NHS more efficient and leaving clinicians to get on with patient care. That drives me."