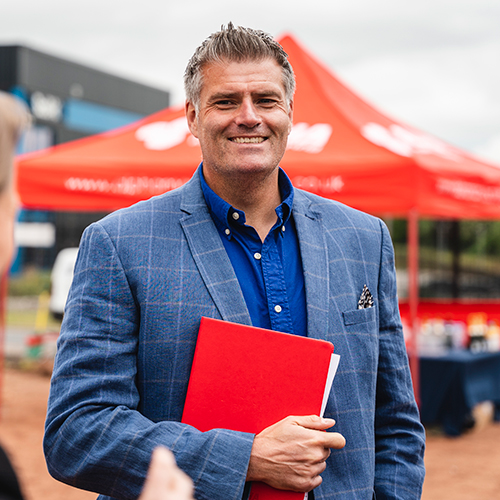 LDC Top 50 2023
Martin Smith
CEO
The HEX Group
From the age of 11, Martin Smith spent his summers helping out in the factory at The HEX Group, the Staffordshire-based automotive engineering and manufacturing firm founded by his parents. After getting a degree in international management, he joined the family business and cut his teeth in every department.
The company employs 530 people, 25 per cent of whom are current or former apprentices, and specialises in converting lightweight commercial vehicles, sheet metal manufacturing and powder-coat painting.
The thing that makes me most proud is that we make stuff in England. Manufacturing really matters to the UK economy."
Q&A
What was your personal aim when you joined the business?
My parents never put any pressure on me to join the family business. When I graduated, my dad asked me to get three job offers. Only then did he offer me a job working night shifts in the factory for £16,000 a year. A lot of people had worked there for many years so it was hard for them to see me as anything other than 'Eric's son'. I became a director at 30, which felt like a real turning point.
What's your proudest business achievement?
There's a skills gap in manufacturing so we launched an apprenticeship scheme 13 years ago to solve the problem. We try to do things differently: our apprentices get to build Caterham cars and go on an outward bound adventure in Wales. Apprenticeships are becoming a more popular option. I'm proud that we were ahead of that curve.
Where do you see the business in five years' time?
I have no intention of staying still. Last year, we launched a new division called HEX Living, manufacturing metal sheds and outdoor furniture. We also built a 35,000 sq ft state-of-the-art production facility in Stafford in collaboration with INEOS to manufacture components for the production of chlorine gas and subsequently green hydrogen, so we'll be playing a part in the transition to lower-carbon energy too.