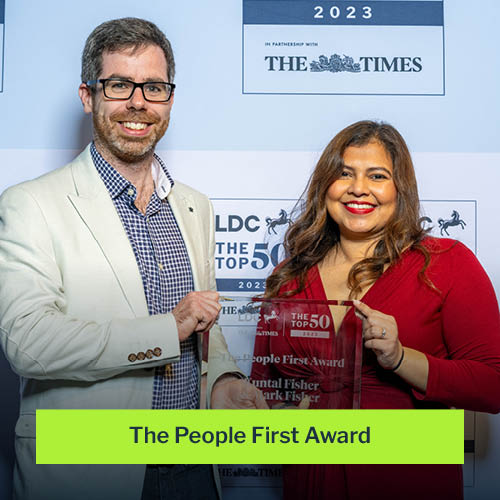 LDC Top 50 2023
Kuntal and Mark Fisher
Founders
FIECON
Kuntal and Mark Fisher have a bold ambition: "By 2030, we want to grow our business to £100 million turnover and give £10 million back to society," says Kuntal. The husband-and-wife team started health economics consultancy FIECON in 2015, working with global pharmaceutical and biotech companies to bring new, life-changing medicines to patients.
They employ over 100 staff on a 4.5-day working week and have raised nearly £1 million for charity so far. Last year, FIECON received a Diamond Award from the Charities Trust for its outstanding contribution to good causes.
We want to do something that's bigger than ourselves and leave the world in a better place than we found it."
Q&A
What motivates you?
Mark: Since launching FIECON in 2015, we've supported the launch of more than 100 medicines in over 20 countries, including groundbreaking drugs to treat idiopathic pulmonary fibrosis and ovarian cancer. Our work ultimately helps to save and improve lives and there's nothing more motivating than that. We invite patients and carers into our offices to speak to the team and we host The Patient Perspectives Podcast to understand the impact of what we do.
How do you make FIECON a great place to work?
Kuntal: We want to be a workplace pioneer and set an example to other employers so we tend to experiment a lot. We recently launched a sabbatical policy where employees can take one to six months of unpaid leave, and last year we introduced a 4.5 day working week. We've found our employees are happier as they can spend more time on personal growth and development as a result.
What are your tips for working with your spouse?
Kuntal: We've set boundaries and we stick to them. We lock our phones away at 6pm every evening and have a strict 'no work-talk' rule when we're with our children. Other than a 30-minute meeting each morning, we don't really interact with each other. We dump all our thoughts into a shared document called 'The CEO Vault' and hold each other accountable in our daily catch-ups.